Broader Markets are Looking Weary. Here's How to Build Your Watch List | ChartWatchers
If you want to uncover the next big winning stock, now is the ideal time to be screening the markets. Why? Because proven studies have shown that the #1 driver of a stock that goes on to far outpace the markets is big, accelerating earning-per-share (EPS) growth.* This growth in earnings is what attracts the attention of the big institutional investors, who go on to bid the stock much higher.
Second quarter earnings reporting just started and, according to research firm FactSet, the S&P 500 is expected to report the highest earnings growth in more than 10 years.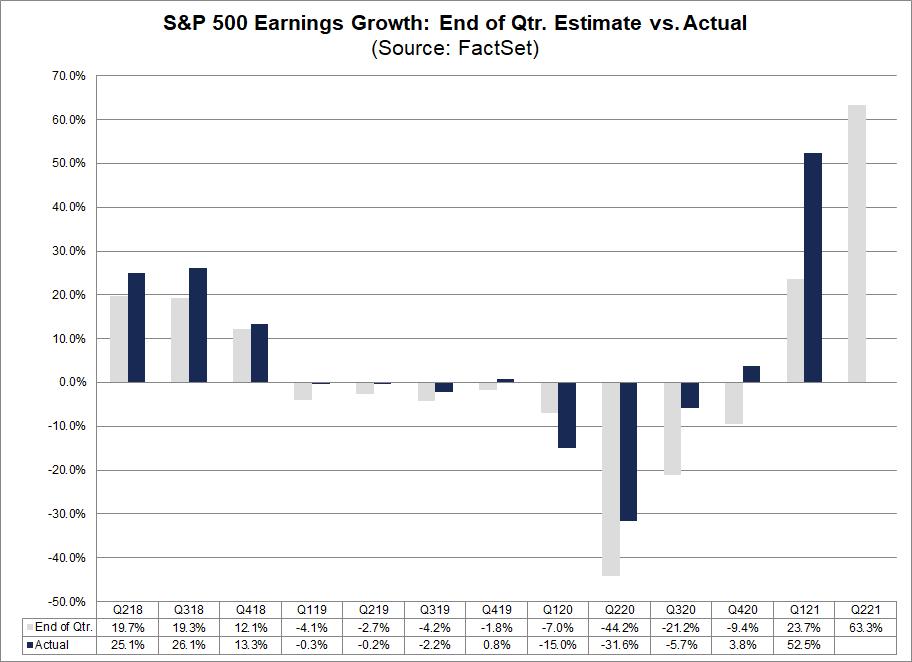 In addition, during the past four quarters (Q2 2020 through Q1 2021), actual earnings reported by S&P 500 companies have exceeded estimated earnings (see chart above). On average, 83% of companies reported EPS above their estimates. This should be great news for investors looking to uncover the next big winner.
Unfortunately, strong earnings alone will not always lead to higher stock prices. You also need a bullish backdrop; not only in the broader markets, but the industry group that stock is a part of.
Studies show that 37% of a stock's price movement is directly tied to the performance of its industry group.*
Take JP Morgan (JPM) and Goldman Sachs (GS), who both reported excellent earnings last Tuesday but have since traded lower. This is because the Banking industry group they're a part of is in a downtrend as yields continue to decline.
DAILY CHART OF S&P BANK ETF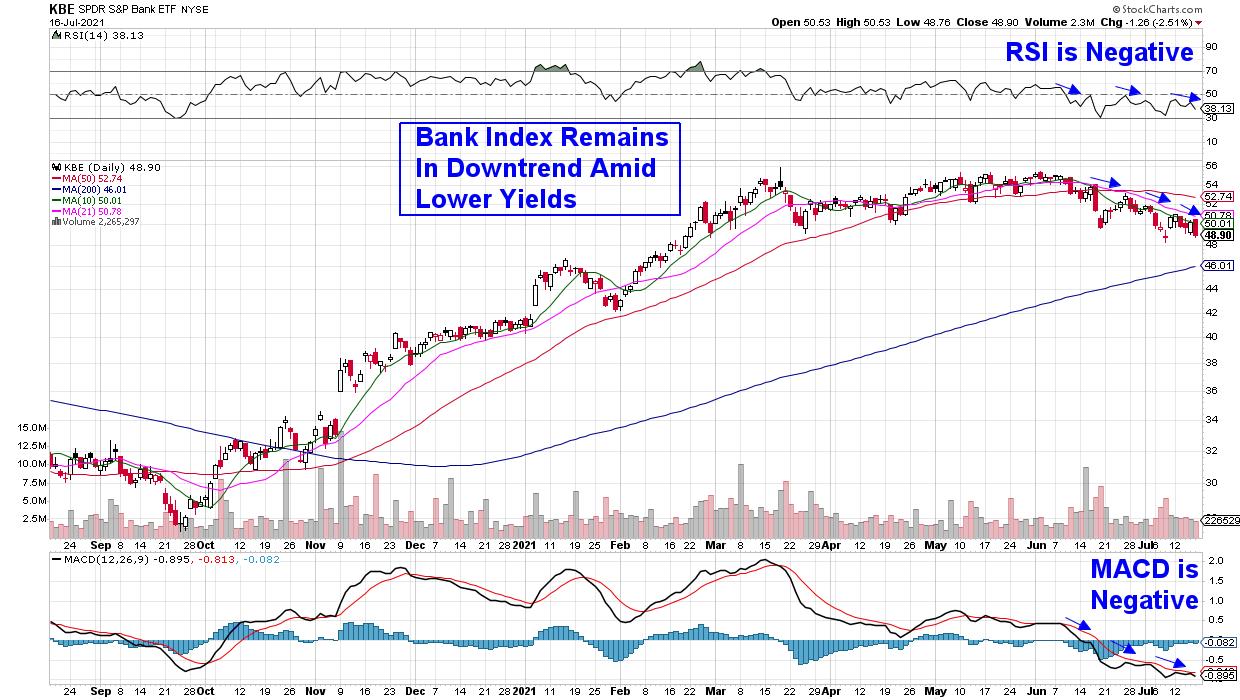 Other big growers are selling off for different reasons, including clothing manufacturer Levi's (LEVI), who reported triple digits earnings growth that was 160% above estimates. The stock pulled back from a post-earnings advance and is now below its pre-earnings price. The poor performance in LEVI is in line with a sharp decline in many Retail stocks that are being hurt by lowered Consumer Confidence in the face of inflation fears.
DAILY CHART OF LEVI STRAUSS & CO. (LEVI)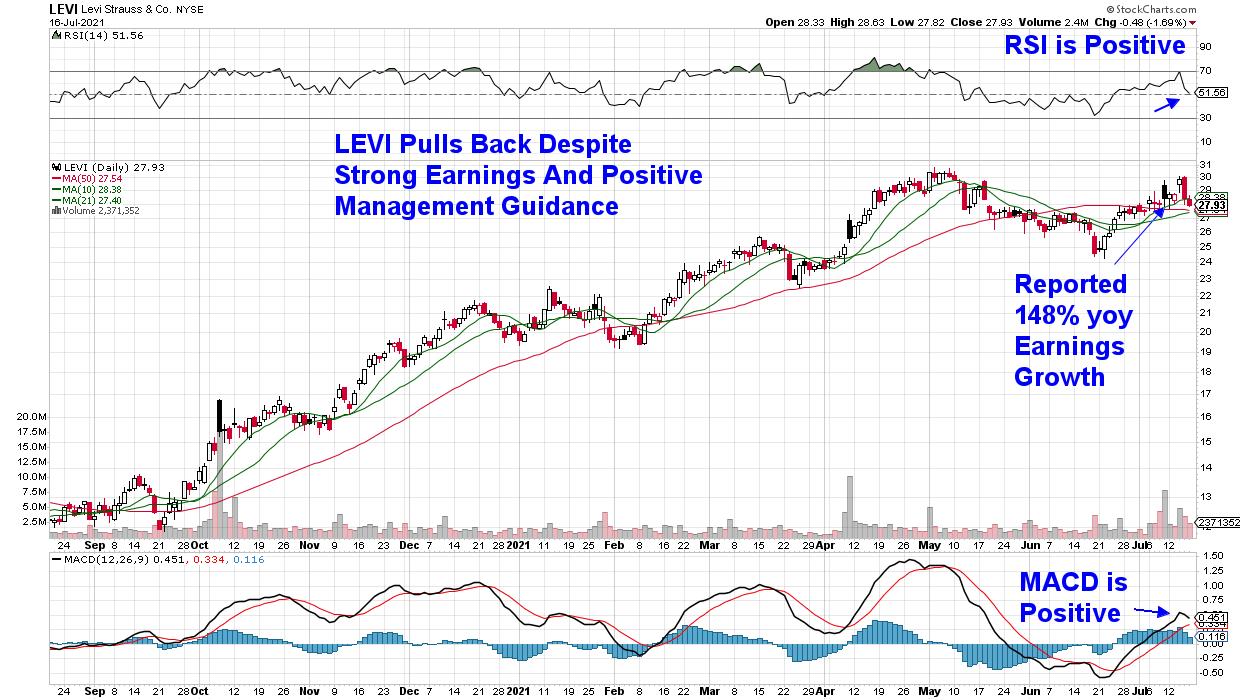 That doesn't mean that each of these stocks shouldn't have a place on your watchlist. Once market and industry group pressures are lifted, these stocks may very well go on to far outpace the markets.
Historical precedence of winning stocks shows that a minimum quarterly EPS growth rate is 25%. However, the best-performing stocks will have EPS gains of 50% to 100% or more, so it's important to focus on companies with those higher earnings.
Take winning stock West Pharmaceutical (WST), which went on to gain 86% following 2 consecutive quarters of earnings that were above 35% (see chart below). This stock was a big winner for subscribers to my MEM Edge Report, as we identified the stock as a buy 3 weeks prior to their first strong quarter in April of last year.
DAILY CHART OF WEST PHARMACEUTICAL SERVICES (WST)
As was alluded to earlier, the broader markets are struggling despite remaining very close to record highs. The continued rally in heavyweight FANMG stocks is masking distribution elsewhere, as recently leading areas of the market are fading.
My MEM Edge Report for this Sunday will provide further insights into the broader markets, and I'll reveal what to be on the lookout for so you can create a plan of action. I'll also share where pockets of strength are, as well as select stocks that can help buffer against volatility.
Use this link here for a 4-week trial of this bi-weekly report as well as immediate access to my most recent reports!
Warmly,
Mary Ellen McGonagle
---
On this week's edition of StockCharts TV's The MEM Edge, Mary Ellen reviews weak areas of the market that appear poised to head lower. She also discusses important takeaways from companies that have reported 2nd quarter results, as well as stocks trending upward on Delta variant news.
---
MEM Investment Research powered by Simpler Trading
*Source: How to Make Money in Stocks by William J. O'Neil
About the author:
Mary Ellen McGonagle
is a professional investing consultant and the president of MEM Investment Research. After eight years of working on Wall Street, Ms. McGonagle left to become a skilled stock analyst, working with William O'Neill in identifying healthy stocks with potential to take off. She has worked with clients that span the globe, including big names like Fidelity Asset Management, Morgan Stanley, Merrill Lynch and Oppenheimer.
Learn More
Subscribe to
ChartWatchers

to be notified whenever a new post is added to this blog!