Don't Blindly Buy ETFs, Use This Strategy Instead | Trading Places with Tom Bowley
It's great to hear about an awesome stock over the water cooler, but you should definitely do your own due diligence before committing capital. Exchange-traded funds, or ETFs, are a different animal altogether. ETFs are nothing more than a basket of stocks. They provide much more diversification, in many instances, than an individual stock because you're spreading your resources into many stocks. Some ETFs are widely-diversified, while others are fairly concentrated. If you own ETFs, are you aware what your ETFs own?
I decided to write this article after a good friend of mine shared his ETF portfolio with me and said he preferred to be diversified rather than concentrate in too few stocks. But his portfolio included 5 ETFs, two of which were iShares ESG Aware MSCI (ESGU) and Fidelity Blue Chip Growth (FBCG). Both of these ETFs are quite strong technically right now, but my friend was very surprised to find that they owned mostly the same thing. FBCG is more highly-concentrated, but both ETFs claimed the following stocks among their Top 5 Holdings:
Apple (AAPL)
Microsoft (MSFT)
Alphabet (GOOGL)
Amazon.com (AMZN)
Facebook (FB)
I happen to love these 5 stocks as long-term holdings, but my point was that he was not nearly as "diversified" as he believed. Also, he didn't realize the significant rotation this year between growth and value stocks and the fact that both of these ETFs, or 40% of his portfolio value, were betting on growth (portions of his other 3 ETFs also were invested in growth stocks, so this percentage was likely quite higher). ETFs provide us the comfort of knowing that we own a basket of stocks, but which stocks? Do you know what you own?
Know What You Own
When we kicked off our Model ETF Portfolio 9 months ago, our goal was not only to select high quality ETFs to help our members build a more secure financial future, but it was also to educate. Education is a big part of our mission. Buying ETFs because they've been performing well may work for awhile, but you really need to take that next step to understand what you own. An ETF may be performing extremely well, but it may be highly-concentrated in just a few names. Even some of the largest and most well-known ETFs are extremely concentrated. A great example is the Energy Select Sector SPDR Fund (XLE). If you own it, I hope you really like Exxon Mobil Corp (XOM) and Chevron Corp (CVX), because they represent 23.70% and 20.03%, respectively. You may think you're diversified within energy when, in fact, two companies control a great deal of that investment. More than 36% of the Consumer Discretionary Select Sector SPDR Fund is comprised of Amazon.com (AMZN) and Tesla (TSLA). If either or both of these stocks go through a difficult period, so too will your ETF. You might feel tremendously diversified with ETFs, but that may not be the case at all.
To help guard against this mistake, we developed two very popular tools with our members – a Strong ETF ChartList where we organize the best performing ETFs and our EB ETF Analyzer Spreadsheet. The latter allows you to select what percentage you want to invest in a number of ETFs and our spreadsheet will return how well you're diversified across the 11 sectors. You can then quickly compare your investment allocation to that of the S&P 500 to see if you're comfortable with that allocation. You can also quickly refer to each ETF's Top 10 Holdings to see how diversified or highly-concentrated each ETF is. Using this tool, our members can put together a much more educated ETF portfolio to help achieve their individual financial objectives.
Understanding the Impact of Market Themes
I still believe it's quite useful to use ETF charts. While they will always follow the direction of the basket of stocks they own, the ETF's cumulative performance vs. the benchmark S&P 500 is very easily charted. As an example, let's look at that Fidelity Blue Chip ETF (FBCG):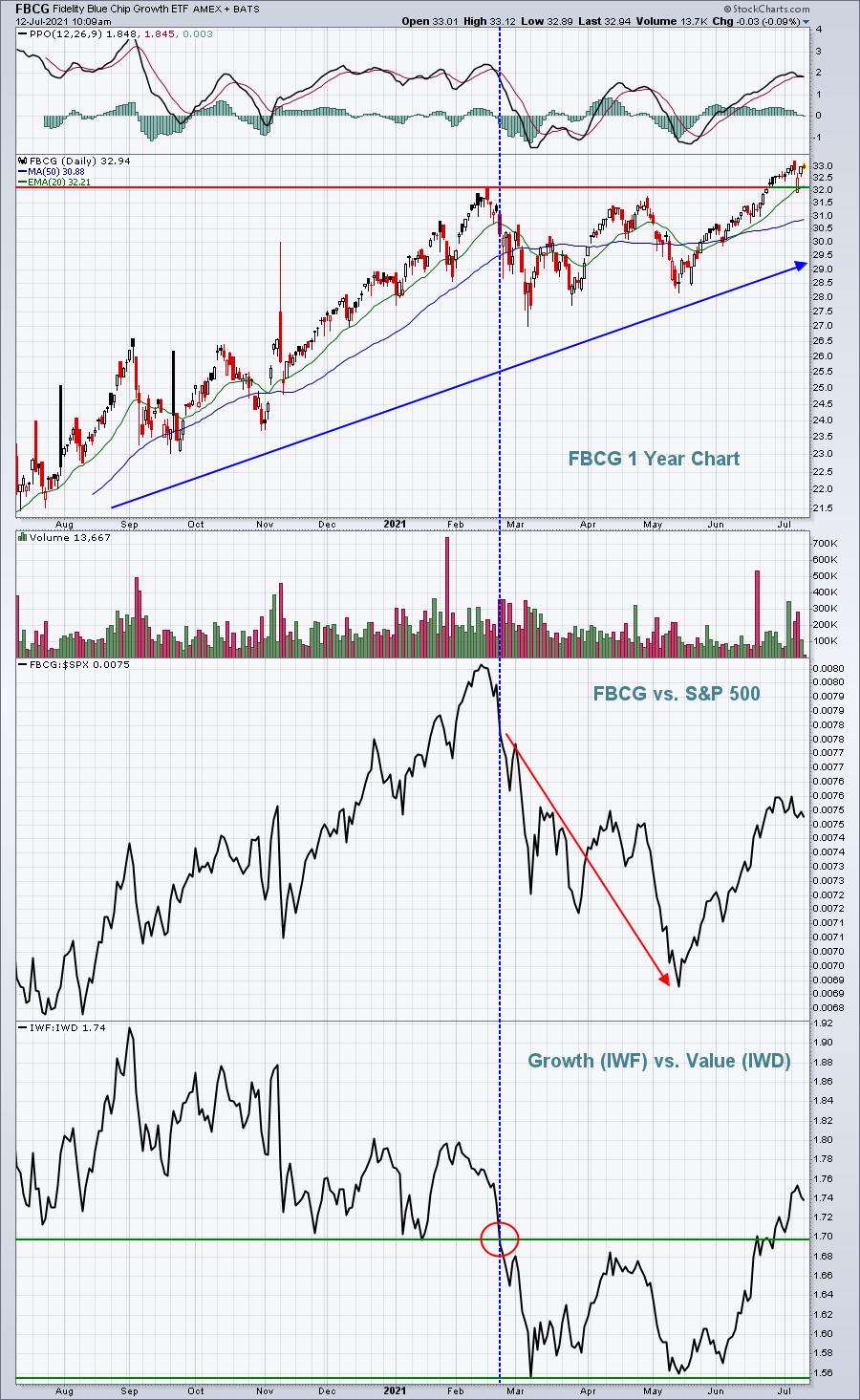 While we can see that the FBCG has performed very well over the past year simply by looking at the top of this chart, its relative strength vs. the S&P 500 was dictated by a major market theme – growth vs. value stocks. When growth was in favor, the FBCG performed exceptionally well (as its name would imply), but note that when the IWF:IWD ratio broke down in late February, the FBCG struggled badly on a relative basis.
Putting It All Together
We strive to do a lot of the research for our EarningsBeats.com members. We identify the strongest ETFs utilizing the SCTR (StockCharts Technical Rank) score and then we update our ETF Analyzer Spreadsheet monthly to continually provide the best ETF information available. Quarterly, we "draft" an ETF portfolio that's designed outperform the S&P 500 and we hold those "drafted" ETFs for a full three months before we re-draft a new set of ETFs the next quarter. We use our ETF Analyzer Spreadsheet to determine exactly what our investment allocation is among sectors and we also discuss the reasoning for the individual ETFs selected. Many are based on themes or on holdings as we may favor a number of the individual stocks held in that particular ETF.
Our next "draft" will be next Monday, July 19th at 4:30pm ET and will be available only for our EB members.
Sneak Preview Event Today
Later today at 4:30pm ET, we'll be hosting a Sneak Preview event to provide a detailed discussion of our ETF service (including the ETF Analyzer Spreadsheet) and I'll also be discussing the current market themes that will likely impact our selection criteria in next Monday's "draft". Our webinar room will open at 4:00pm ET and the webinar will start promptly at 4:30pm ET. You can access the room by clicking on the link below AFTER 4:00pm ET today:
https://earningsbeats.zoom.us/j/89947292079
All attendees will be added to our FREE EB Digest newsletter if you're not already a member. Also, we'll send out a recording of the event to all of our EB Digest newsletter subscribers. There is no credit card required and you may unsubscribe at any time. If you cannot make the event, but would like a copy of the recording, CLICK HERE and join as a free subscriber by entering your name and address in the spaces provided.
Happy trading!
Tom
About the author:
Tom Bowley
is the Chief Market Strategist of
EarningsBeats.com
, a company providing a research and educational platform for both investment professionals and individual investors. Tom writes a comprehensive Daily Market Report (DMR), providing guidance to EB.com members every day that the stock market is open. Tom has contributed technical expertise here at StockCharts.com since 2006 and has a fundamental background in public accounting as well, blending a unique skill set to approach the U.S. stock market.
Subscribe to
Trading Places with Tom Bowley

to be notified whenever a new post is added to this blog!