How to Determine Which Companies Will Report Blowout Results | ChartWatchers
I view relative strength as one of the most important aspects of technical analysis. It helps me visualize where the money is going. When you review a price chart, it's very easy to see if a stock is going up or going down. As an example, let's look at internet stocks ($DJUSNS). This has been the 5th best industry group (out of 104) over the past three months. Yandex (YNDX) is in the internet space and has gained more than 15% over the past few months. Here's the chart: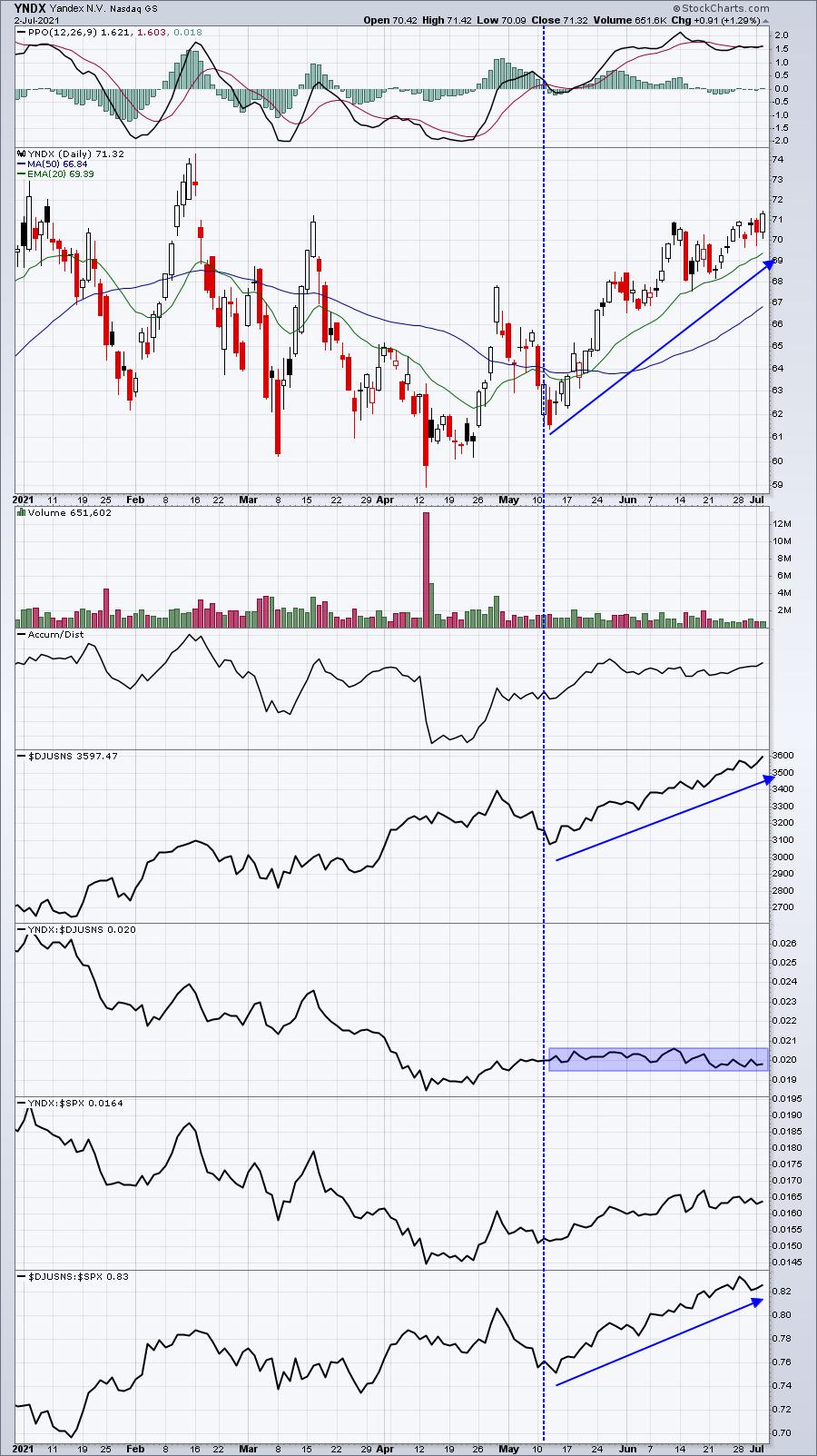 Charts tell us stories, if we'll only listen. When I look at the above chart, I see a stock that's performing well primarily because the industry is performing well. It has nothing to do with its own relative leadership, it's simply being dragged higher by its group. So you can imagine what's likely to happen to the stock if the industry begins to trend lower. It's not likely to be pretty. Leaders within a strong group provide you the ability to outperform the S&P 500. That's how we strategize in our portfolios at EarningsBeats.com, which have crushed the benchmark over time.
Using price relative charts like the one above can help us to visualize the merits of an investment, but another way to evaluate several companies within an industry group simultaneously is to use an RRG (relative rotation graph) chart. The internet group provides us many candidates to consider. As you look at the following RRG chart, I think it'll become clearer which stocks are the leaders within the space:
So, while the YNDX price chart looked pretty solid, uptrending nicely the past few months, the RRG chart shows us several internet names that are truly leading the index higher – and none of them are YNDX. Every stock that's on the right side of the vertical axis is showing relative strength. YNDX sits next to Alphabet (GOOGL), just left of the vertical axis, and also in the lagging quadrant. YNDX is moving higher because internet stocks are strong and carrying it higher. YNDX is not a leader.
Now let's turn our attention to banks as they kick off earnings season in the next couple weeks. Which banks are Wall Street professionals favoring? Well, in my latest EB Digest newsletter article on Friday, I used price relative charts to show that Wells Fargo (WFC), Bank of America (BAC) and PNC Financial (PNC) are among the leaders. But let's add several more bank names that will be reporting earnings at the beginning of earnings season on an RRG chart to see which ones Wall Street is "banking" on: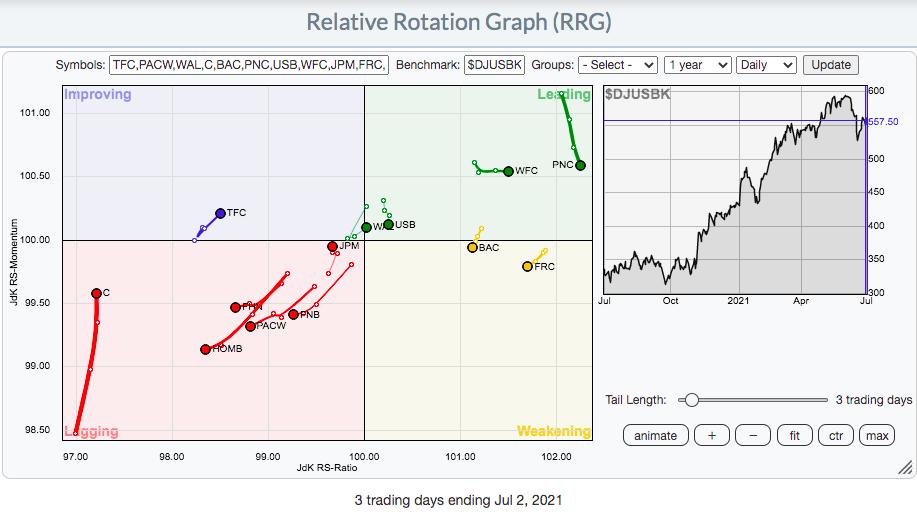 The RRG chart is confirming exactly what I saw on the price relative charts. PNC, WFC and BAC are among the best bank names heading into earnings season. I expect excellent reports from these three. A fourth name to consider would be First Republic Bank San Francisco (FRC). Rotation has been swaying towards these stocks, which suggests to me that Wall Street likes what it's seen/heard from management over the past several weeks. Meanwhile, Citigroup (C) has been lagging badly and perhaps we'll find out why when they report their quarterly earnings on July 14th.
On Tuesday, July 6th, at 4:30pm ET, I'm hosting a "2021 2nd Half Market Outlook" webinar that will be open to the public. I plan to discuss several intermarket relationships that enable us to determine the sustainability of the current secular bull market advance. In addition, I'll be evaluating sectors, looking for those likely to lead during the second half of the year. Finally, I'll have additional RRG charts to help us visualize the true leaders of this rally. These are the companies that will help you beat the S&P 500. If you'd like to attend, you can save your spot by simply subscribing to our FREE EB Digest newsletter. There's no credit card required and you may unsubscribe at any time. We'll send out webinar instructions to our entire community on Tuesday. CLICK HERE to enter your name and email address and get your free subscription started!
Tom
About the author:
Tom Bowley
is the Chief Market Strategist of
EarningsBeats.com
, a company providing a research and educational platform for both investment professionals and individual investors. Tom writes a comprehensive Daily Market Report (DMR), providing guidance to EB.com members every day that the stock market is open. Tom has contributed technical expertise here at StockCharts.com since 2006 and has a fundamental background in public accounting as well, blending a unique skill set to approach the U.S. stock market.
Subscribe to
ChartWatchers

to be notified whenever a new post is added to this blog!