Israel Moves to Seize Bitcoin, Tether, Dogecoin From Hamas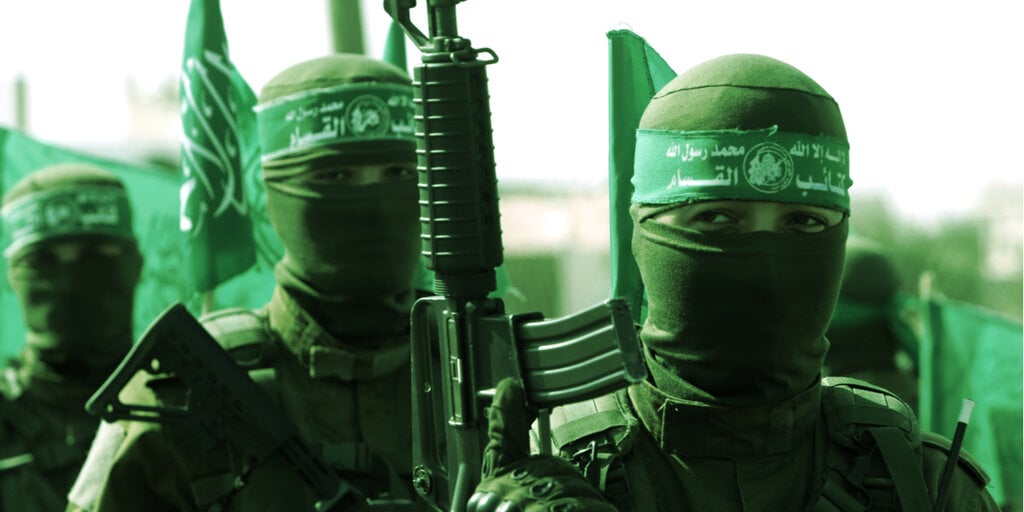 In brief
Hamas receives crypto in donations.
Israel has issued a seizure order against addresses it believes are associated with the group.
Those addresses have received Tether, Bitcoin, and Dogecoin.
Dogecoin may be the light-hearted cryptocurrency fun-loving people like to promote—but it's also being collected by one of the world's biggest militant organizations: Hamas. 
Yeah, you read that right. Israel's National Bureau for Counter Terror Financing today issued a seizure order against 84 crypto addresses believed to be controlled by Hamas. 
Those addresses have received $7.7 million in cryptocurrency, according to blockchain analytics company Elliptic. It calculated that over $40,000 has been Dogecoin, a "meme coin" that has exploded in popularity recently. 
But by far the biggest volume of crypto received by the allegedly dodgy addresses was in the stablecoin Tether, at $4.1 million, followed by Bitcoin with $3.3 million, Elliptic said. 
"The seizure order indicates that Hamas is now using a range of cryptoassets—including Dogecoin, Tether and Ether," a blog post by Elliptic read. 
Hamas, is the largest of several Palestinian militant Islamist groups. It runs the Gaza Strip and is designated a terrorist group by Israel, the US, the European Union, the UK, and other major world powers.
It also likes Bitcoin. The militant organization has been receiving a lot of the cryptocurrency during its latest clash with Israel. As a designated terrorist group by the world's biggest economies, it is all but locked out of the traditional financial system, making dollars and euros hard to come by. 
Donations to fund its cause are therefore better made in decentralized cryptocurrencies, like Bitcoin or DOGE. Though its biggest holdings, Tether, make even more sense. The cryptocurrency has a stable value—it's pegged to the US dollar and doesn't go up and down like Bitcoin or DOGE. Tether is also outside of traditional financial structures and can be moved around quickly.  
Elliptic said that many of the 84 addresses highlighted by Israel have previously been identified by Elliptic as being associated with the Al-Qassam Brigades, the military wing of Hamas.