Janet Yellen to Assemble Regulators Over Stablecoin Concerns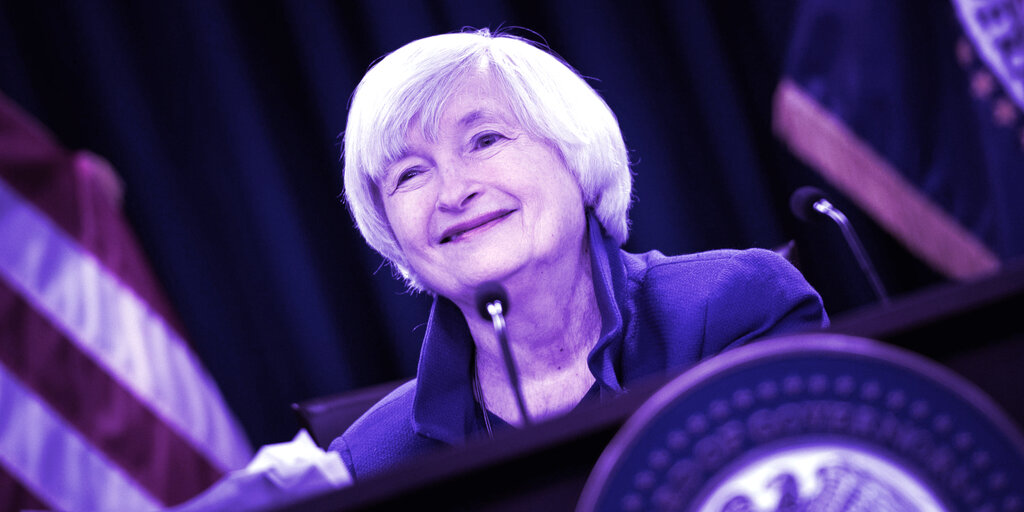 In brief
This coming Monday, Treasury Secretary Janet Yellen will meet with top regulators for a discussion of stablecoins.
Government officials have been expressing concern about stablecoins, and Tether, in particular.
As government officials continue to raise the alarm about stablecoins, Treasury Secretary Janet Yellen will meet with regulators next week to "discuss interagency work" around the crypto niche, which is increasingly drawing attention in Washington.
The President's Working Group on Financial Markets will convene on Monday, July 19th. It comprises Yellen, Securities and Exchange Commission Chair Gary Gensler, Federal Reserve Chairman Jerome Powell, and the Acting Chair of the Commodity Futures Trading Commission Rostin Behnam.
A stablecoin is a kind of cryptocurrency that's "pegged" to another currency, usually a physical one such as the dollar. The idea is that the value of the coin stays "stable" at the exact price of the pegged currency, though this isn't always true in practice, thanks to the unpredictable conditions of the broader crypto market. Still, unlike Bitcoin, which might lose 20% of its value on a particularly bad day, stablecoins typically only fluctuate fractions of a percent.
Tether (USDT), a stablecoin pegged to the US dollar, is now the third-largest cryptocurrency by market capitalization; many crypto exchanges offer trades against Tether, rather than dollars, as a way to avoid handling fiat money. 
But the company behind USDT has faced questions about its business practices, and about whether or not the peg is actually backed by US dollars. The company's initial claim—that each Tether issued was backed 1:1 by "traditional currency"—turned out to be false. Instead, Tethers are mostly backed by commercial paper, or short-term debts to unknown parties.
Tether, which has never been subject to a full audit, has also faced legal action over its evasiveness—after a lawsuit and subsequent investigation from the New York Attorney General's Office, the company was fined $18.5 million for "recklessly and unlawfully cover[ing]-up massive financial losses."
At a recent congressional hearing, Jerome Powell used Tether as an example for why stablecoins should be subject to greater oversight: "If they are going to be a significant part of the payments universe, which we don't think crypto assets will be, but stablecoins might be, then we need an appropriate regulatory framework, which frankly we don't have," he said.