John McAfee Was Broke When He Died: Biographer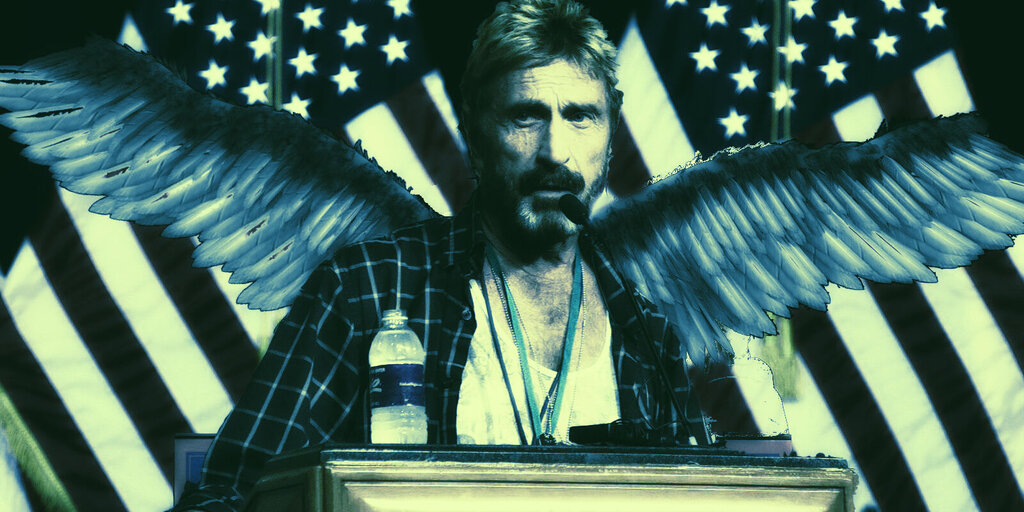 In brief
Tech entrepreneur John McAfee, who died last month, was known for his lavish lifestyle.
But his biographer has said he was broke when he died.
This is because he blew all his money on properties he didn't live in, the author said.
Tech entrepreneur John McAfee was broke when he died, mostly because he blew his money on properties he didn't even live in, according to a biographer who worked closely with him. 
At one point McAfee, who was found dead in a Spanish jail last month aged 75, was worth $100 million. But when he died, all the money had been spent on "absolutely bizarre properties," author Mark Eglinton said in a Saturday MailOnline report. 
Eglington, who will release a book on McAfee's life later this year, spent months interviewing McAfee while he was on the run. McAfee was due to collaborate with Eglinton on the upcoming book but was unable to pay the fee requested for the biography, the author told MailOnline. 
Cybersecurity pioneer McAfee was the founder of popular antivirus software, McAfee. Later in his life he became known for his crazy outbursts, being the spokesman for crypto and his fiercely libertarian lifestyle. 
He also got in serious trouble with the law for tax evasion. He allegedly made over $23 million by promoting seven initial coin offerings (ICOs)—described as "pump-and-dump" schemes by U.S. authorities. 
After being on the run for months, McAfee was arrested in Spain in October last year. He was due to be extradited to the U.S. to face the charges but was found dead in his cell in an apparent suicide.
Eglinton told MailOnline that McAfee was in serious financial trouble at one point and probably lied about how much money he really had. 
He added that the amount requested for the biography was "not a large amount"—and McAfee couldn't even pay that. "My financial situation is worse than yours," he reportedly told Eglinton. 
"Rather than pretend he didn't have it, I think he was pretending he did," Eglinton said in the interview. 
Decrypt first reported the details of McAfee's crypto promotions in April 2019. The entrepreneur sought up to 20% of the tokens issued in a variety of ICOs in exchange for his public endorsement, which would've made him millions of dollars.
U.S. authorities then alleged that McAfee didn't pay taxes from 2014 to 2018 and that he routed income through cryptocurrency accounts in another person's name.
McAfee then went on the run for six months before he was arrested by the Spanish authorities last year.  
Eglinton's book, "No Domain: The John McAfee Tapes" will be released in December.