Leaked Draft Shows What's Inside Paraguay's Proposed Bitcoin Law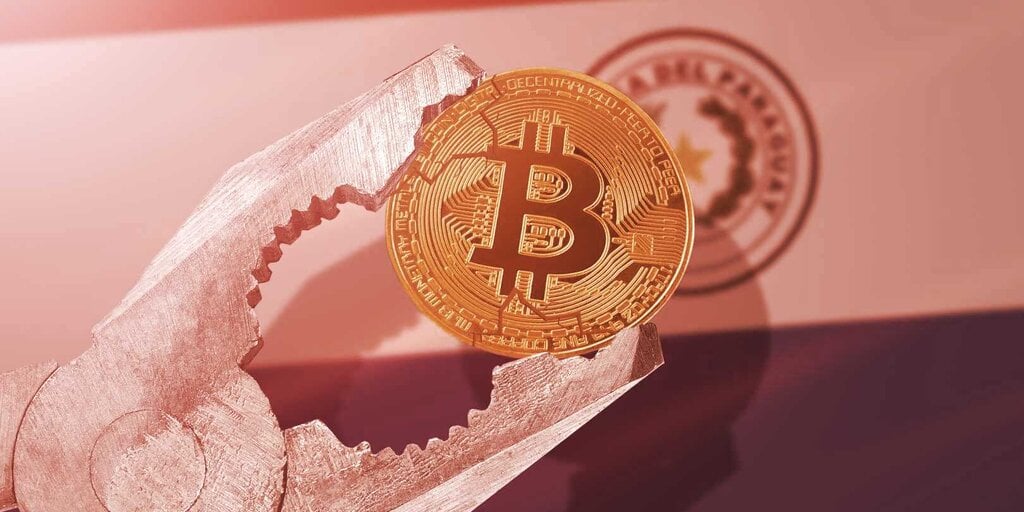 In brief
Carlos Rejala, a young Paraguayan congressman is trying to regulate Bitcoin.
He's teamed with a senator from another party to work on a bill.
Paraguay could be hours away from taking an essential step toward regulating cryptocurrency, as a new bill is expected to be proposed tomorrow.
Decrypt has gained access to a leaked copy of the bill, being developed by Congressman Carlos Rejala and Senator Fernando Silva Facetti.
The bill would require registration of cryptocurrencies with Paraguay's Undersecretariat of State Taxation. It also would regulate cryptocurrency mining and trading via exchanges as well as peer-to-peer marketplaces, requiring actors to register as obligated subjects.
The path of this bill has been winding. It began when Rejala, inspired by El Salvador's pro-Bitcoin president, Nayib Bukele, put on his laser eyes and promised to work on an innovative law that would somehow involve Bitcoin.
Speculation around the law was quick to follow. Rumors began to circulate that Rejala was working on the adoption of Bitcoin as legal tender in line with El Salvador, something he later denied.
But his version of the bill underwhelmed cryptocurrency advocates. Paraguayan architect and tech enthusiast Juan Pessolani says he received access to an early draft.
"I found that 90% of the bill was a literal transcription of two previous, unsuccessful bills, one from the Argentinean Congress and the other from the Colombian Congress," Pessolani told Decrypt. "In addition, it had excerpts from a Venezuelan blog and others from a not-so-popular antivirus software site. Those were the last places an informed person would turn to for a project on such an important topic."
The Colombian text used as a basis for Rejala's crypto law was discarded years ago. Colombian congressman Mauro Toro told Decrypt a commission is working on a new bill with the collaboration of different public and private entities.
In conversations with Decrypt, open-source software and cryptocurrency activist Juan Benitez called the Paraguayan bill, which included proposed taxes on crypto and a recovery fund, "one of the most regrettable documents I saw drafted on technology issues in the last 10 years."
Benitez confirmed that he had been invited by Carlos Rejala to analyze the legal text and that it was the same one leaked by Juan Pessolani. However, he said the participants had agreed to work on a new, more open, and more participatory proposal.
That came after Senator Facetti, working on his own proposal, entered the picture.
Facetti's proposal shared the same basic objectives of Rejala's: to regulate the cryptocurrency ecosystem to provide a legal framework for mining, exchanges, transactions, and taxes. This proposal was endorsed by the country's Fintech Chamber.
Unlike Rejala, whose party holds only two seats in Congress, Silva Facetti is a leader within the Authentic Radical Liberal Party, one of the country's main opposition parties. The chances of passing a Bitcoin bill suddenly improved. As a result, the two congressmen announced they would work on a joint bill to give their project some chance to pass:
But this new initiative is not without criticism either. 
For one, the conversations have been highly secretive, and the process hasn't involved key stakeholder organizations. Moreover, it is fundamentally more extensive than Rejala's original draft and creates a more complex bureaucratic apparatus.
Pessolani fears the bill could be counterproductive if approved in its current state: "The draft Bitcoin Law in Paraguay does not encourage innovation, does not establish incentives and does not generate economic development opportunities for society," he said. "On the contrary, it creates obstacles and disadvantages for some and benefits for others."
Benitez, meanwhile, sees the bill's aims as worthy, even if the specifics are flawed. In his view, companies in the Paraguayan crypto ecosystem have experienced problems with the national banking system. Regulation could solve that. Still, he wishes to be involved in developing a law that's more in line with the Paraguayan reality.
Rejala is ready to move forward, even if he isn't entirely sure what he has on his hands. "The project will be ready on Wednesday," he told Decrypt. "Everything is still being studied."