Los Angeles Dodgers to Auction NFT With Physical World Series Ring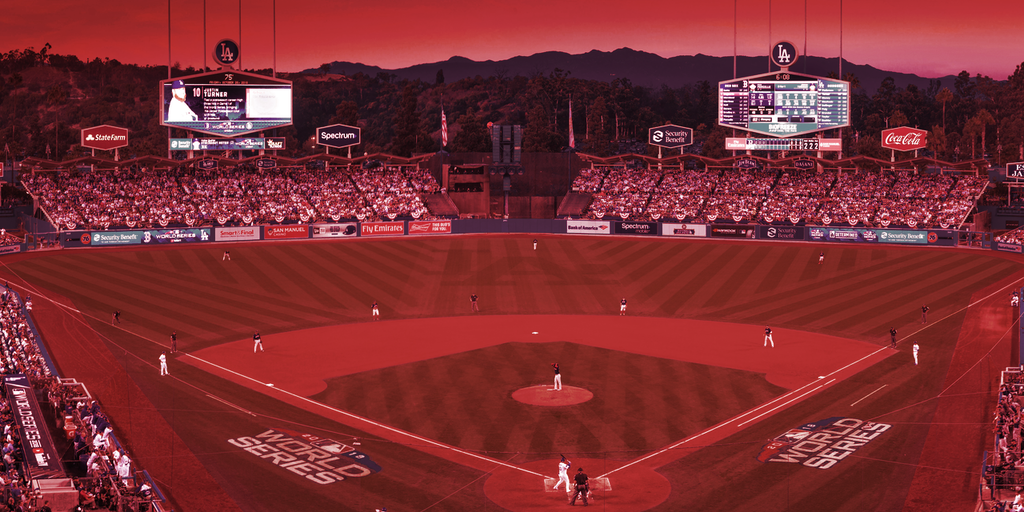 In brief
The Los Angeles Dodgers will release its first team NFTs next week, including a single-edition NFT with a physical World Series ring.
Candy Digital's first official MLB NFT sold this week for more than $70,000 to Gemini co-founder Tyler Winklevoss.
The Los Angeles Dodgers, Major League Baseball's reigning champion from the 2020 season, announced this week that it will auction a physical World Series ring as part of a package with a single-edition non-fungible token (NFT) crypto collectible.
The bundle, which will open up for online auction on Monday, July 12, will also include an opportunity to throw out a first pitch at a game at Dodgers Stadium in Los Angeles along with tickets to that game. The auction will last through Thursday, July 15, with all proceeds going to the Dodgers Foundation, the team's social justice-centric charity.
In addition to the special-edition bundle, the Dodgers will also offer a common, open edition NFT during the same timespan. Available at a fixed price of $20.20 with all proceeds going to the same charity, the NFT will take the form of a looping video clip showing the World Series 2020 logo transforming into the Dodgers team logo and back.
These are the first official team NFT offerings via MLB's partnership with crypto-collectibles startup Candy Digital, which was announced at the start of June. Candy Digital was co-founded by Michael Rubin, executive chairman of sports merchandise and memorabilia firm Fanatics, along with serial entrepreneur (and NFT creator) Gary Vaynerchuk and Mike Novogratz, founder and CEO of blockchain financial services firm Galaxy Digital.
Candy Digital's first MLB offering, a single-edition NFT representing a video clip of player Lou Gehrig's famed 1939 "Luckiest Man" speech, was auctioned this week with proceeds set to benefit amyotrophic lateral sclerosis (ALS, or Lou Gehrig's Disease) charities. Tyler Winklevoss, co-founder of cryptocurrency exchange Gemini and NFT marketplace Nifty Gateway, had the winning bid at $70,444.
An NFT serves as a deed of ownership to a digital item, such as a video clip, still image, tweet, or interactive video game item. NFTs have also been paired with physical items and real-life experiences—such as sports tickets and memorabilia, physical screens to display artwork or video clips, or a movie set visit with a celebrity meet-and-greet.
Sports collectibles are one of the hottest sections of the burgeoning NFT market, led by Dapper Labs' officially-licensed NBA Top Shot platform, which packages video highlights into scarce digital collectibles. Top Shot has recorded more than $700 million in trading volume since launching last fall, and helped NFTs break into the mainstream earlier this year.
Sports leagues like Major League Soccer and Ultimate Fighting Championship have also dipped their toes into the world of NFTs. Although the NFL remains conspicuously absent, many NFL players have launched their own individual NFT projects as well.
Major League Baseball has also been involved in previous NFT offerings: Topps released digital MLB cards as NFTs via the WAX blockchain this spring, and the league briefly had its own NFT-based game called MLB Crypto Baseball (later MLB Champions) prior to this year's NFT market boom.