Major Breakouts Are Continuing In A Big Way | Trading Places with Tom Bowley
Months of consolidation is now resulting in key breakouts for a number of growth stocks. Amazon.com (AMZN), which will report quarterly results later today, was a high-profile breakout after nearly a year of consolidation. But that's simply set the beginning of a trend. Here are two more that are clearing major price resistance after delivering much-better-than-expected quarterly results:
AMD:
Here were the reported numbers for AMD:
Revenues: $3.85 billion (actual) vs. $3.62 billion (estimate)
EPS: $.63 (actual) vs. $.54 (estimate)
The result?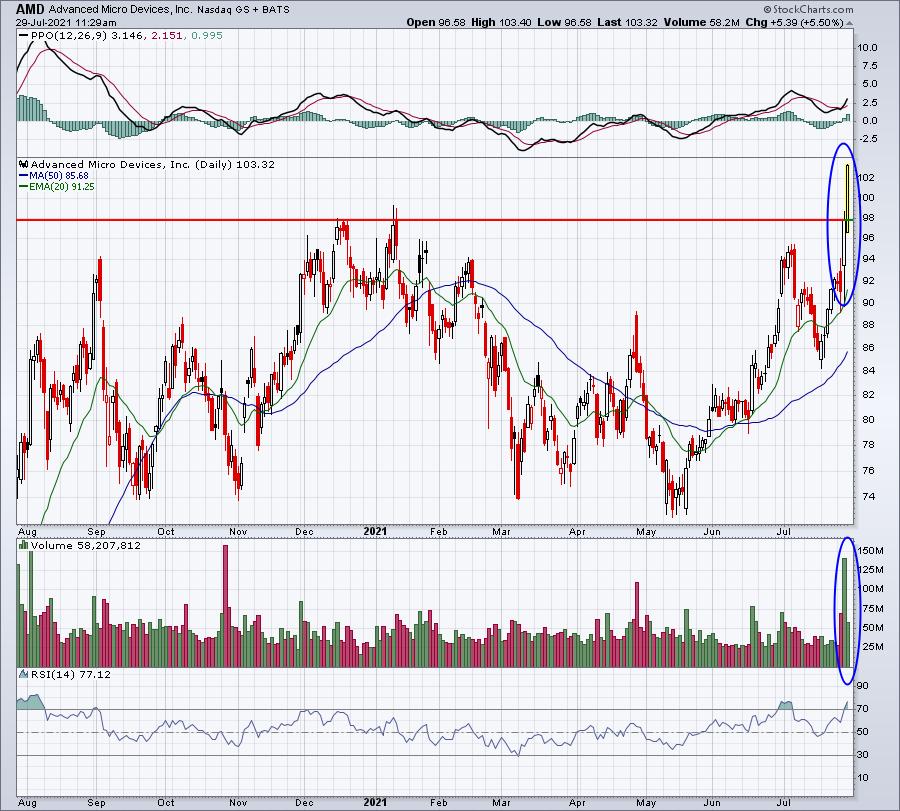 This looks like a game-changer technically. Though not shown above, AMD is quickly accelerating vs. its semiconductor peers as well. Future 20-day EMA tests would be excellent entry opportunities.
ALGN:
Here were the reported numbers for ALGN:
Revenues: $1.01 billion (actual) vs. $0.94 billion (estimate)
EPS: $3.04 (actual) vs. $2.52 (estimate)
The result?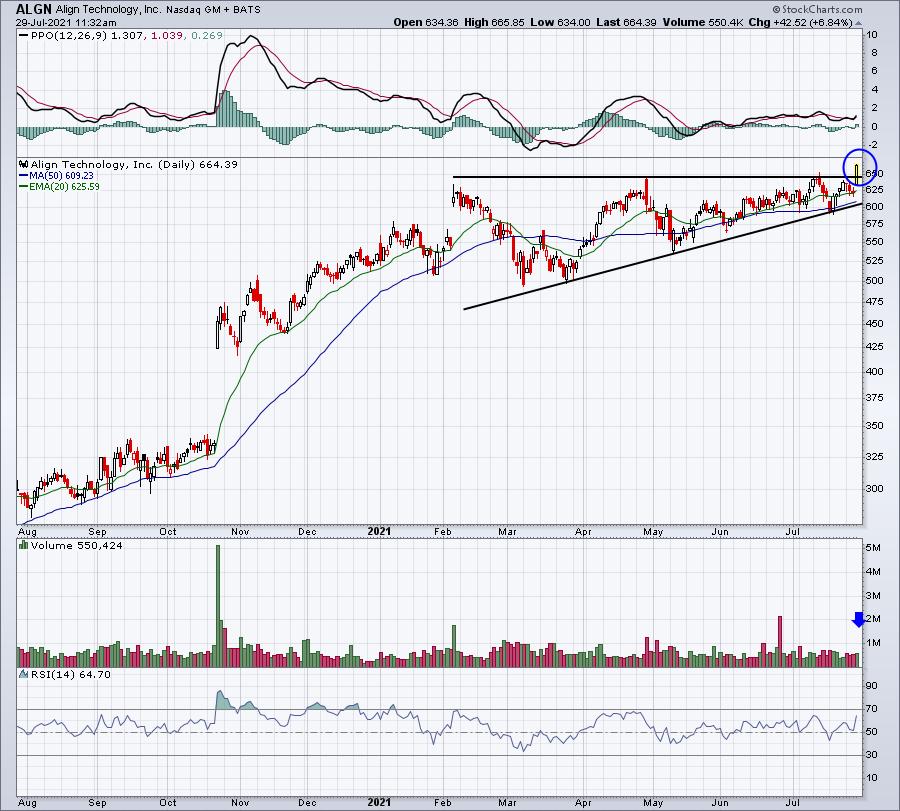 ALGN still has a bit of work left to do as it has yet to confirm a closing breakout. In other words, an afternoon reversal and failure to close above prior candle body highs would suggest more short-term choppiness before the actual breakout. However, if ALGN maintains its current price, or strengthens further into the close, then I'd view this as a major breakout and consider the rising 20-day EMA as an entry opportunity in the future.
In tomorrow's free EB Digest newsletter, I'll be featuring another stock on the verge of a major breakout after recent consolidation. If you're not currently an EB Digest newsletter subscriber, it's completely free. Simply CLICK HERE and enter your name and email address in the spaces provided. I'll send that stock out first thing tomorrow morning!
Happy trading!
Tom
About the author:
Tom Bowley
is the Chief Market Strategist of
EarningsBeats.com
, a company providing a research and educational platform for both investment professionals and individual investors. Tom writes a comprehensive Daily Market Report (DMR), providing guidance to EB.com members every day that the stock market is open. Tom has contributed technical expertise here at StockCharts.com since 2006 and has a fundamental background in public accounting as well, blending a unique skill set to approach the U.S. stock market.
Subscribe to
Trading Places with Tom Bowley

to be notified whenever a new post is added to this blog!