The 10-yr Yield, Banks, Techs and Rotation | Art's Charts
The decline in the 10-yr yield is not the only factor at work in the markets, but there is clearly a correlation at work recently, especially with banks. The chart below shows the 10-yr Yield ($TNX) and Regional Bank ETF (KRE) falling from mid May to July. Meanwhile, the Technology SPDR (XLK) advanced sharply during this timeframe.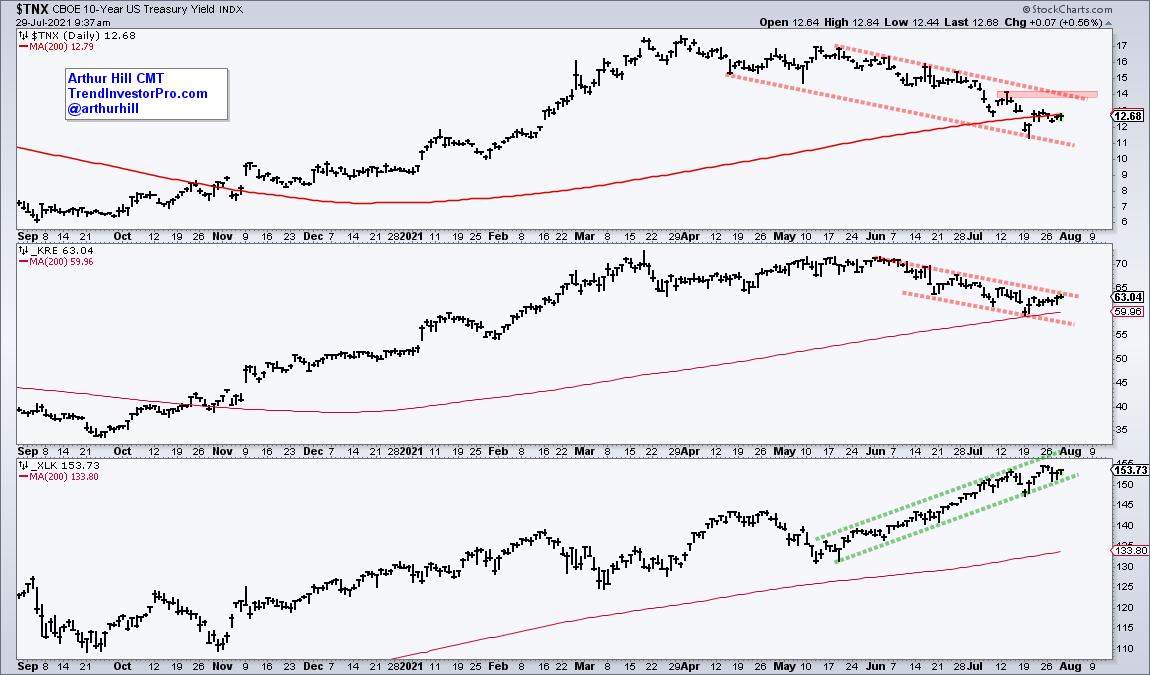 The 10-yr yield and KRE are testing their rising 200-day SMAs and both have falling channels working. A channel breakout in the 10-yr yield would put a different dynamic at work in the markets and this could be bullish for banks. I would not consider this outright bearish for tech-related ETFs, but such a signal could kick off another rotation within the stock market.
As the name suggests, TrendInvestorPro specializes in trend identification and finding short-term bullish setups within the bigger uptrend. We constantly monitor a core ETF list with over 120 names and regularly update trend signals. Click here to subscribe and get immediate access to our reports and videos.
———————————————
About the author:
Arthur Hill
, CMT, is the Chief Technical Strategist at TrendInvestorPro.com. Focusing predominantly on US equities and ETFs, his systematic approach of identifying trend, finding signals within the trend, and setting key price levels has made him an esteemed market technician. Arthur has written articles for numerous financial publications including
Barrons
and
Stocks & Commodities Magazine
. In addition to his Chartered Market Technician (CMT) designation, he holds an MBA from the Cass Business School at City University in London.
Subscribe to
Art's Charts

to be notified whenever a new post is added to this blog!