The Holiday Weekend Comes With Risks – Here's What You Need To Know | ChartWatchers
The S&P 500 and the Nasdaq Composite both closed the week in new high ground as inflation fears continue to recede. Outside of the markets however, there's an increasing concern going into this long weekend, as health experts are eyeing an increase in the spread of the Delta variant of the COVID-19 virus. In fact, the Biden administration has readied "surge response teams" that will focus on high-risk areas that have lower-than-average vaccinations.
The Delta variant's takeover in the U.S. is viewed as inevitable, but there is good news for those already vaccinated by Pfizer (PFE), Johnson & Johnson (JNJ) or Moderna (MRNA)'s vaccine. Each company has announced at least a 90% protection rate against hospitalization from the Delta variant. The positive news has pushed Pfizer (PFE) and Johnson & Johnson (JNJ) back into uptrends, while Moderna (MRNA) experienced a bullish 3-week base breakout. These stocks each appear poised for further near-term upside.
Below is a daily chart of Pfizer (PFE). The company was the first to receive FDA emergency use for its COVID-19 vaccine last November in a move that shattered previous development records. Pfizer CEO Albert Bourla expects that we'll be using vaccines to keep the disease under control in the long-term, with data now showing that a third booster will be helpful for those who've received their first 2 shots. The company is currently estimated to grow earnings by 68% vs last year, and the 3.9%-yielder currently has positive momentum indicators that points to a rally to its recent highs and beyond.
DAILY CHART OF PFIZER INC. (PFE)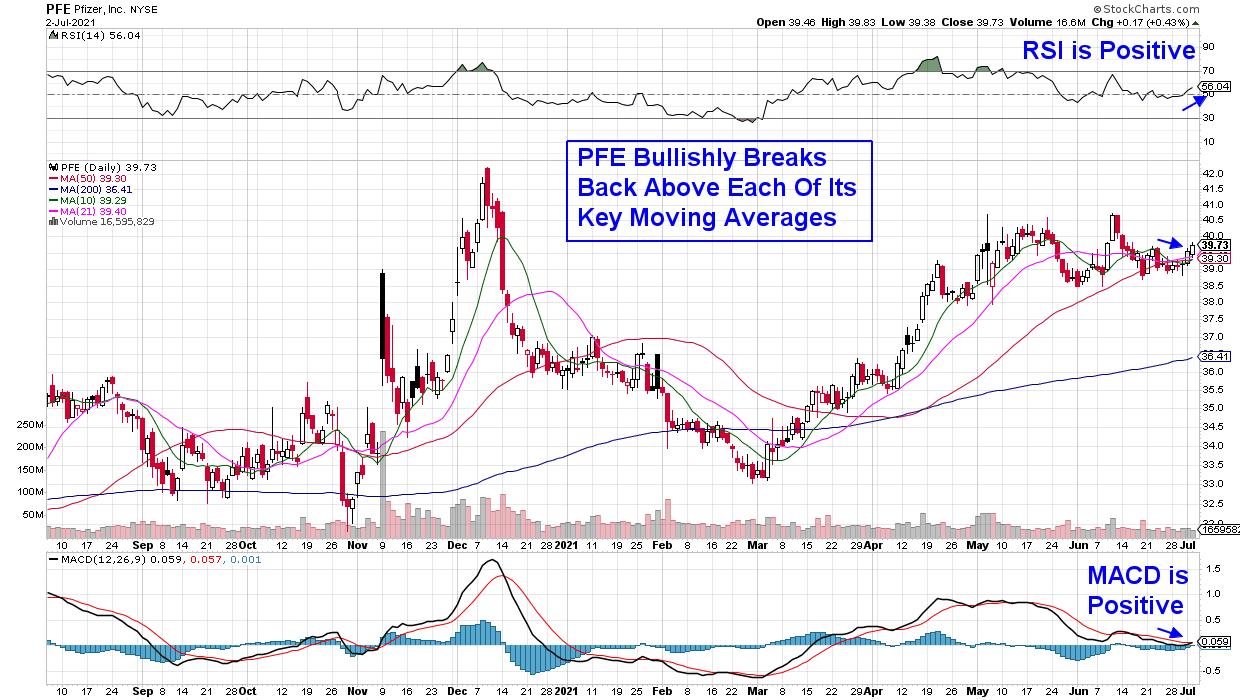 Next up is Moderna (MRNA), which hit a record high in price last week following news of 2 positive developments. The company announced that its COVID-19 vaccine appears to protect against several new coronavirus strains including the Delta variant. In addition, MRNA reported that India granted Emergency Use Authorization for its vaccine.
Moderna's 3-week base breakout pushed the stock into an uptrend, and MRNA can be bought on a pullback to its 5-day simple moving average at the $232 level.
DAILY CHART OF MODERNA (MRNA)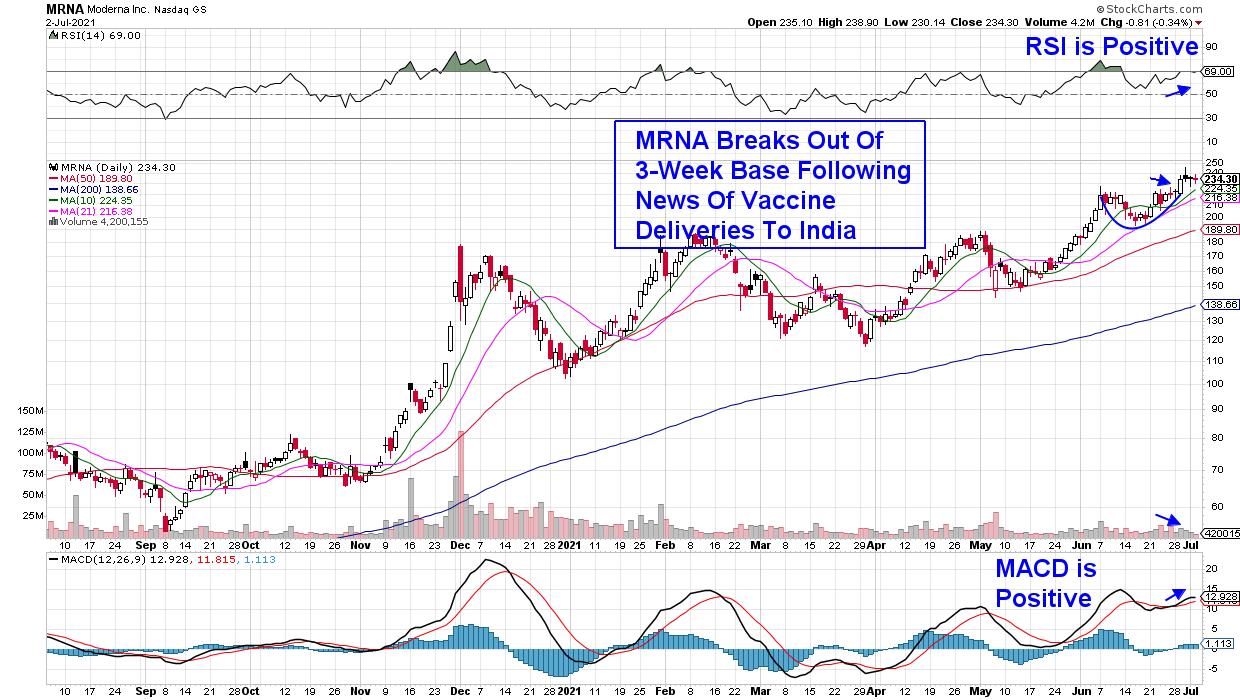 Last up is single-shot COVID-19 vaccine provider Johnson & Johnson (JNJ) which also announced its ability to combat the Delta variant as well as other highly prevalent viral strains last week. In addition, the World Bank announced a deal to fund JNJ's vaccine production in South Africa to help meet demand for billions of doses. 
Johnson & Johnson bullishly broke back above its 50-day moving average following the positive news. With its RSI and MACD in positive territory, JNJ is now in an uptrend and can be bought.
DAILY CHART OF JOHNSON & JOHNSON (JNJ)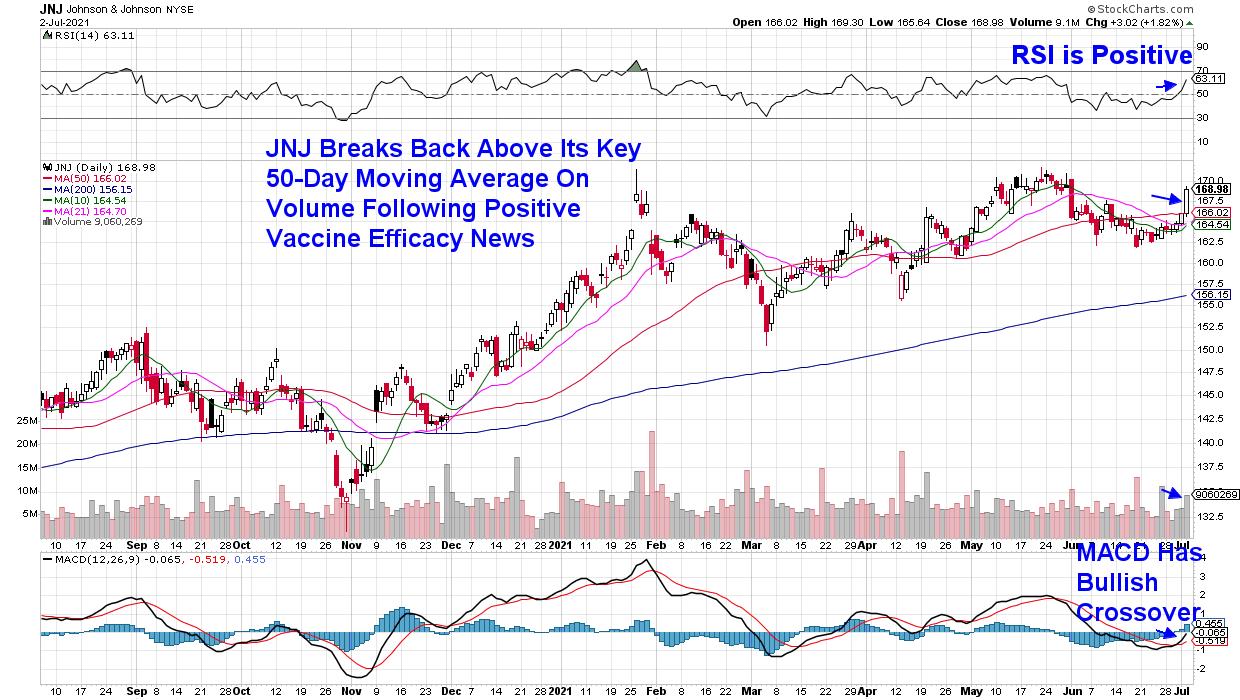 There is plenty of bullish action elsewhere in the markets as well, with Large-Cap Growth stocks leading the markets higher. Growth stocks fare well in a period of declining interest rates and, last week, we saw yields fall even further from their recent May highs.
Subscribers to my MEM Edge Report have been alerted to several big winners in the leading growth area of Technology, such as Semiconductor stock Nvidia (NVDA), which has gained over 20% in the past four weeks. In addition to identifying top stocks poised to outperform, I'm continuing to monitor the broader markets for signs of a pullback in the S&P 500 following last week's move into an overbought position. If you'd like to have access to my high level insights into sector rotation as well as the select stock's poised to outperform, use this link here to take a 4-week trial of my bi-weekly MEM Edge Report for a nominal fee!
Warmly,
Mary Ellen McGonagle, MEM Investment Research
About the author:
Mary Ellen McGonagle
is a professional investing consultant and the president of MEM Investment Research. After eight years of working on Wall Street, Ms. McGonagle left to become a skilled stock analyst, working with William O'Neill in identifying healthy stocks with potential to take off. She has worked with clients that span the globe, including big names like Fidelity Asset Management, Morgan Stanley, Merrill Lynch and Oppenheimer.
Learn More
Subscribe to
ChartWatchers

to be notified whenever a new post is added to this blog!