This Energy Group is Moving on the RRG | Don't Ignore This Chart!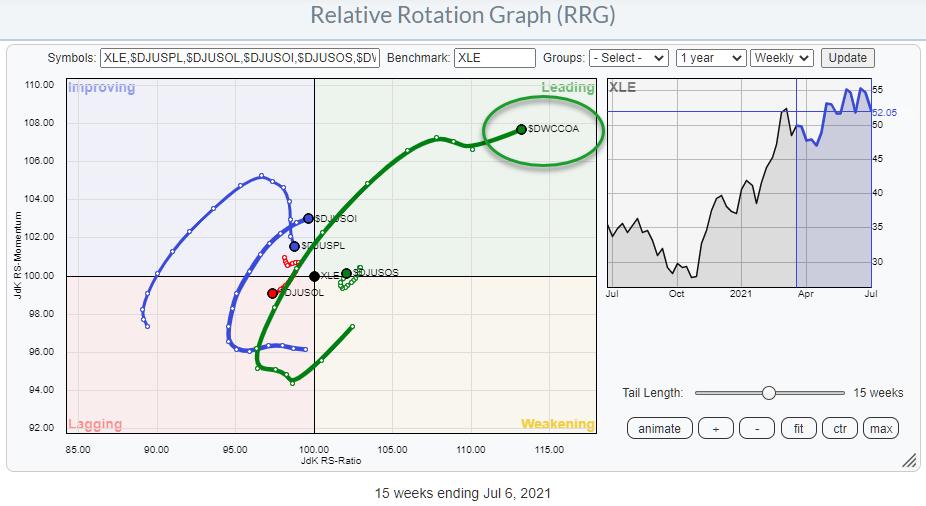 This Relative Rotation Graph shows the industries that make up the Energy sector. One tail that especially stands out is for $DWCCOA. I have looked at this RRG, and the sector before, but always excluded Coal as none of the stocks in that index are in the S&P. Today, I want to see if I can find one or more interesting stocks in that Coal group.
Using the scan engine to find the constituents of this group gives me the following names: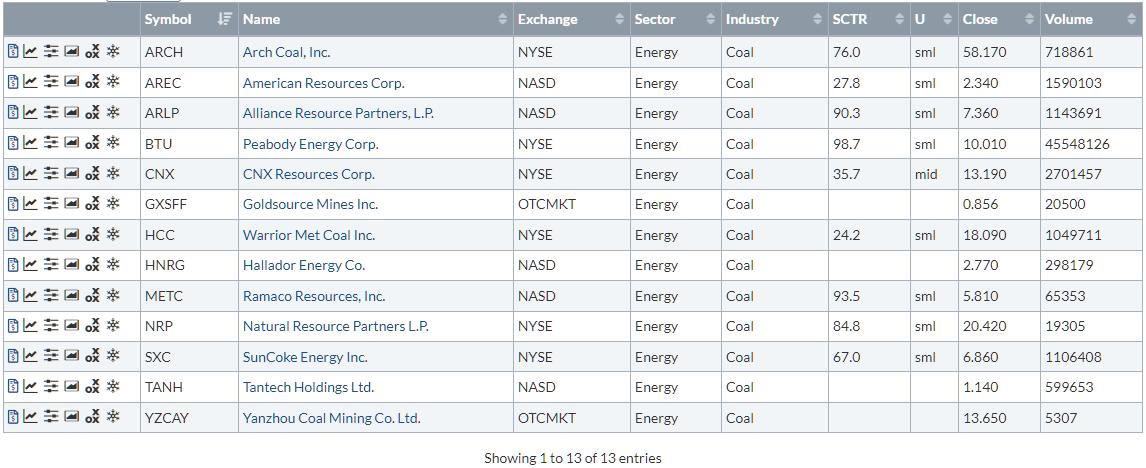 When I throw this group onto an RRG and use $SPX as the benchmark, you will see a bias towards the leading quadrant, as can be expected because of the group's strength.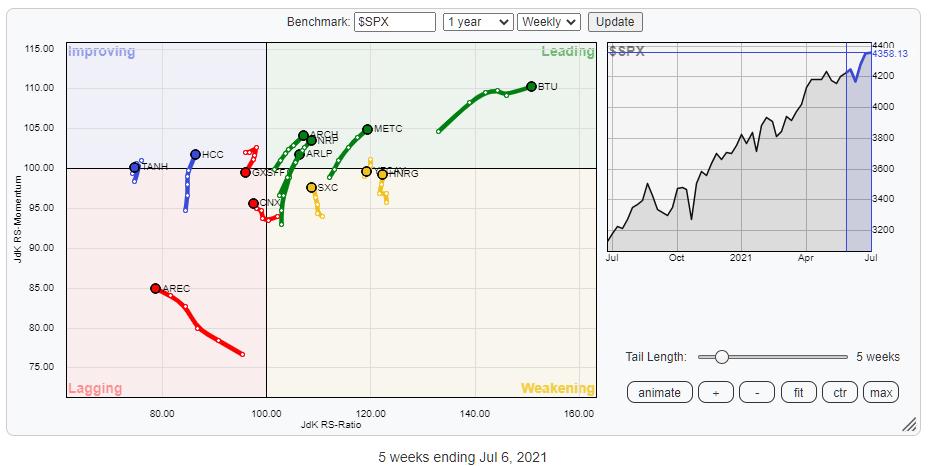 The tails inside the leading quadrant are all moving at a positive RRG-Heading. While going over their price charts, BTU and METC looked interesting to me.
BTU – Peabody Energy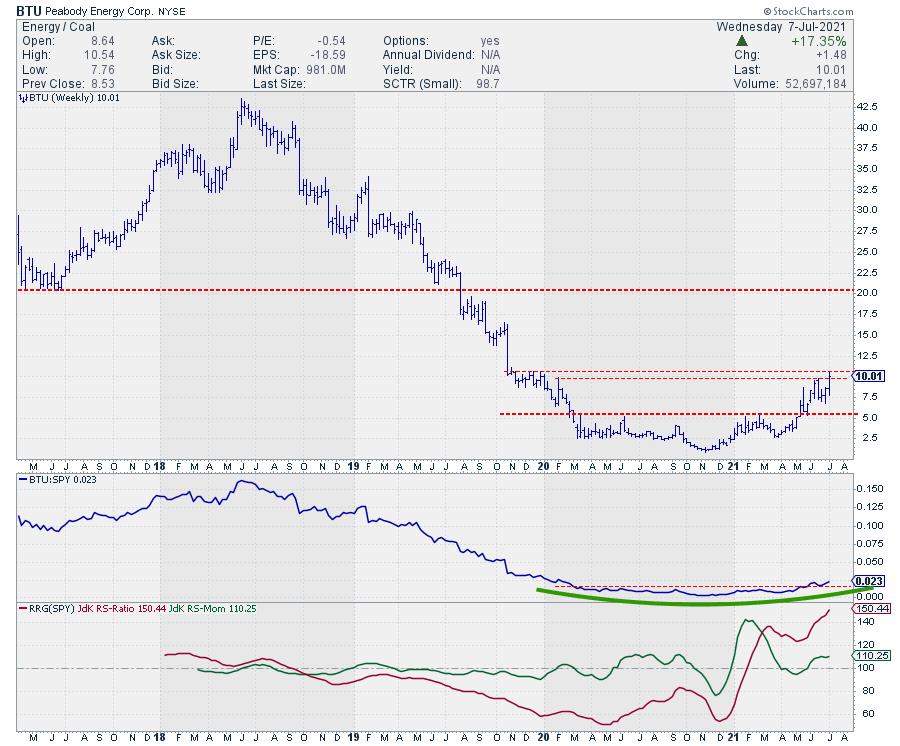 Both the price and the relative charts are showing a long rounding bottom. Price broke above its horizontal resistance a little earlier than relative strength. Still, the RRG-Lines had picked up a turnaround and moved into the leading quadrant already back in February.
At the moment, the price is about to break the next horizontal boundary. So, when that area around $10 is cleared, it looks like upside is available towards $20.
METC – Ramaco Resources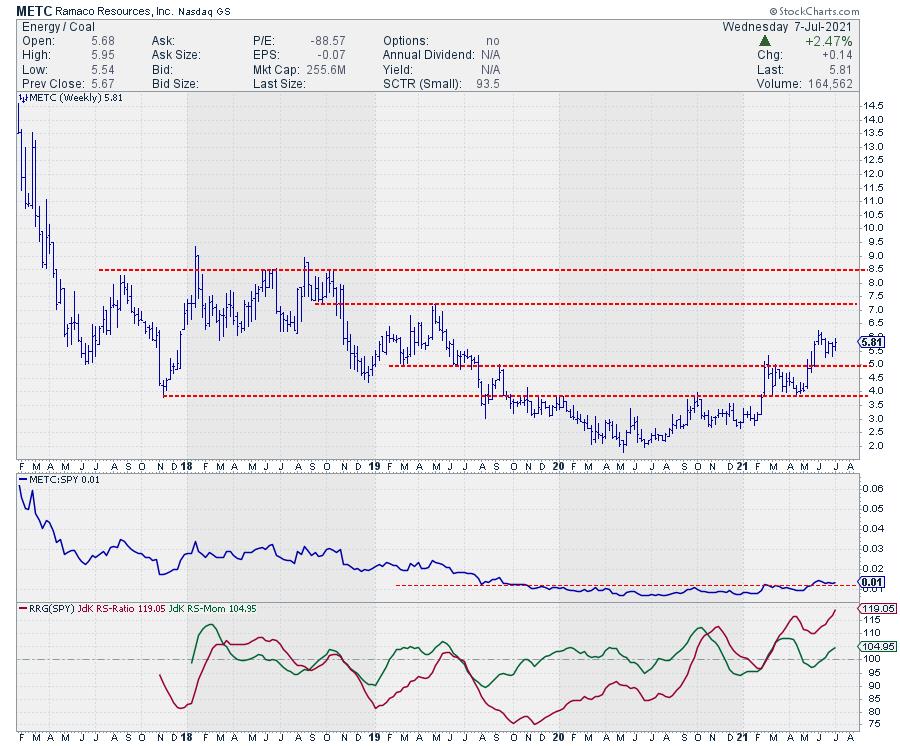 Ramaco Resources has less historical data, but looks to be in the same boat; a long-term turnaround in price and relative strength and a push into the leading quadrant around the same time as BTC.
All in all, also for METC, the odds seem to favor a further rally. BTU seems to be the better choice, based on the upside potential towards the first serious resistance level in percentage terms.
$StaySafe, –Julius
---
Julius de Kempenaer
Senior Technical Analyst, StockCharts.com
Creator, Relative Rotation Graphs
Founder, RRG Research
Host of: Sector Spotlight
Please find my handles for social media channels under the Bio below.
Feedback, comments or questions are welcome at Juliusdk@stockcharts.com. I cannot promise to respond to each and every message, but I will certainly read them and, where reasonably possible, use the feedback and comments or answer questions.
To discuss RRG with me on S.C.A.N., tag me using the handle Julius_RRG.
RRG, Relative Rotation Graphs, JdK RS-Ratio, and JdK RS-Momentum are registered trademarks of RRG Research.
About the author:
Julius de Kempenaer
is the creator of Relative Rotation Graphs™. This unique method to visualize relative strength within a universe of securities was first launched on Bloomberg professional services terminals in January of 2011 and was released on StockCharts.com in July of 2014.
After graduating from the Dutch Royal Military Academy, Julius served in the Dutch Air Force in multiple officer ranks. He retired from the military as a captain in 1990 to enter the financial industry as a portfolio manager for Equity & Law (now part of AXA Investment Managers).
Learn More
Subscribe to
Don't Ignore This Chart!

to be notified whenever a new post is added to this blog!