This is Why You MUST Follow Relative Strength Heading into Earnings | ChartWatchers
If you have been paying attention to earnings, you would have seen that SNAP reported their numbers on Thursday and crushed all expectations. As a result, the stock was higher by over 25% at its peak the day after the numbers were released.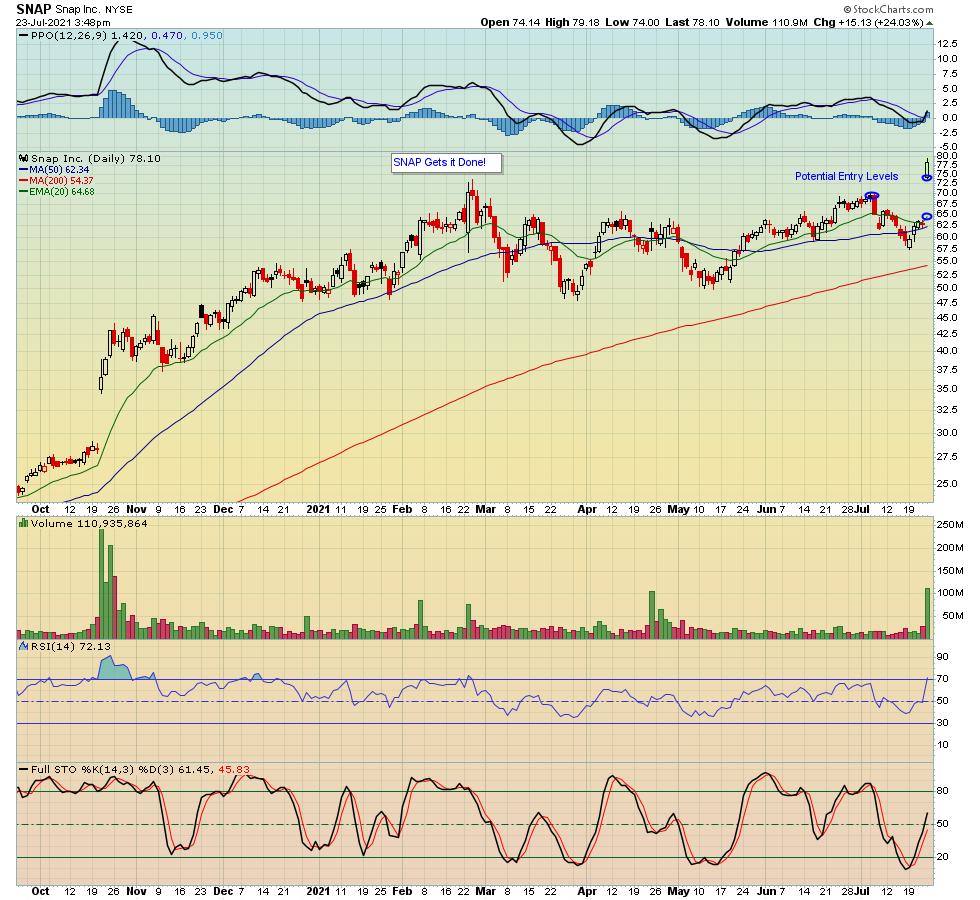 While you might not have benefited from SNAP's terrific move to the upside, it could present a nice opportunity if you are patient and wait for it to pullback to an attractive level — for example, those levels I've identified in the chart above.
SNAP's results and the market response were not guaranteed. However, it was one of a number of stocks our Chief Market Strategist Tom Bowley pointed out in our Q2 Earnings webinar last week, which also included CMG, HCA, IPG, DPZ, and CROX. All of these moved higher once their numbers were released. What did they all have in common? Relative strength readings that made them good bets.
Even though a number of companies have already reported, it's just the tip of the iceberg, with thousands of additional companies getting set to reveal their numbers over the next several weeks. And how about this upcoming week alone, when we'll hear from AMZN, AAPL, FB, GOOGL and MSFT, with a combined Market Cap of $9.3 trillion – that's trillion with a T!
Expectations for the tech giants must be high, with 3 of the 5 companies — FB, GOOGL and MSFT — hitting record highs last week. AAPL and AMZN also recently hit all-time highs before pulling back some. So the stage is set for the market to continue higher, barring any significant earnings misses from the most visible companies. Which gets to the question, where might the S&P be heading next?
Since the S&P has never been above 4400 before, there's no telling where it might go next. However, natural targets could include 4450 to 4500. And if earnings continue to impress the way they have so far, those levels could be easily reached.
Tom Bowley has created a list of companies with market caps in excess of $1 billion. This is our "Upcoming Earnings" ChartList, which is available to all members of the EarningsBeats community. This list is very helpful as it gives members a "heads up" as to which companies will be reporting their numbers throughout the week. And if you can identify those companies showing the greatest relative strength, it could prove to be profitable. You can get access to the list by clicking here and subscribing to our FREE EarningsBeats Digest newsletter. As a bonus, in Monday's EBD, Tom will reveal his top pick for the upcoming week. Don't miss it!
At your service,
John Hopkins
EarningsBeats.com
Subscribe to
ChartWatchers

to be notified whenever a new post is added to this blog!