TikTok Bans Paid Crypto Promotions But 'Financial Analysis' Unaffected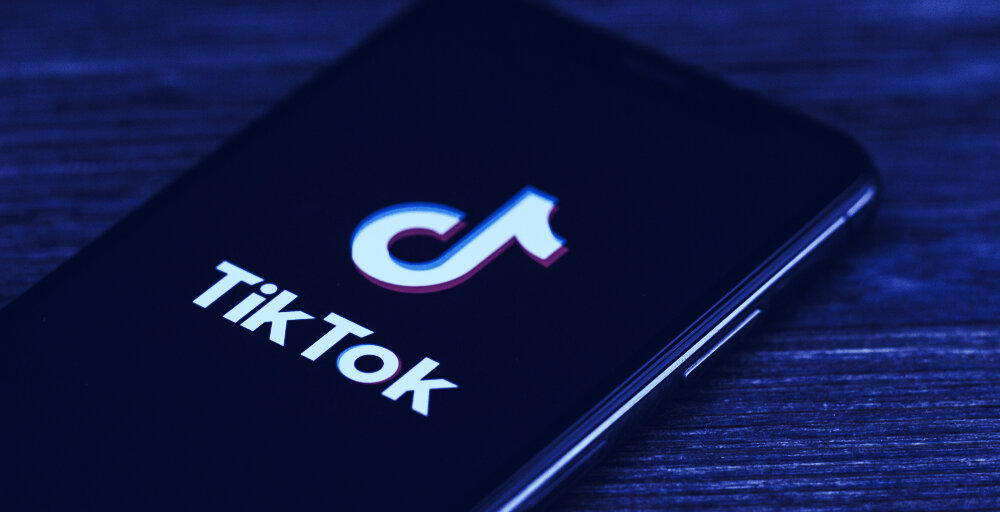 In brief
Popular social media platform TikTok has banned paid promotions of cryptocurrency.
The ban doesn't extend to people who shill their portfolios.
Social media platform TikTok has banned influencers from promoting cryptocurrency.
The ban, quietly introduced to its content policy this week, restricts what the platform calls "branded content," or paid advertisements.
Branded content is clearly indicated on the short videos users upload to the app, often with the hashtag #ad and a link to the promoted product, like a sign-up link.
TikTok also banned influencers from promoting other financial products, such as loans, credit cards, forex trading, get-rich-quick schemes and penny auctions.
TikTok was a driving force behind the rise of several meme cryptocurrencies, including Dogecoin and Shiba Inu, because the social media platform's algorithms prioritize engaging and playful content that resonates with young investors.
But TikTok's ban only extends to branded content where there's a direct commercial relationship. So there's no ban on pumping cryptocurrencies for free, even though it could benefit those shilling the coin.
Unpaid TikTok crypto shills can carry on
That is a big deal. Dogecoin, the most popular meme coin, has often spiked thanks to TikTok campaigns to pump the coin to reach $1. Such campaigns can continue without a hitch.
As can a variety of dubious viral investment videos. In early May, Adyn Schachtel, a self-described analyst with 224,000 followers, predicted that Dogecoin's price will hit $3,000 "in less than a few months." It has not surpassed even $0.74.
Even obscure financial soothsayers can continue to spread their analysis: crypto astrologer Maren Altman uses horoscopes to predict the price of Bitcoin for her 1 million followers.
In her latest video about Bitcoin, uploaded today, she said, "Jupiter re-entering aquarius end of month has me (obviously) more bullish tong-term."
Her insane popularity landed her a branded content opportunity last month with Solana. "Fees are so low, I can afford to live in Manhattan," she said in a video, which she deleted following a backlash.
Rival social media platform Instagram, owned by Facebook, continues to allow paid promotions of cryptocurrency. Last month, Kim Kardashian promoted an obscure token, EthereumMax, to her 228 million Instagram followers, with the hashtag #ad.
"Not financial advice!"
Jordan Fish, a crypto trader better known as CryptoCobain, said that criticising openly disclosed partnerships will leave investors "stuck with shady undisclosed shilling by fake-traders (marketers)."
But Jane Hume, Australia's Financial Services Minister, said in May that it's obvious that TikTok influencers "spruiking Nokia" are no more credible than "the bloke down the pub."
"At some point we have to let people make their own decisions; it's about personal responsibility and common sense," she said.
To navigate Crypto TikTok, then, one must be wary of self-motivated and disingenuous crypto shills.