What Is Stoner Cats, the NFT Series Starring Mila Kunis, Ashton Kutcher and… Vitalik?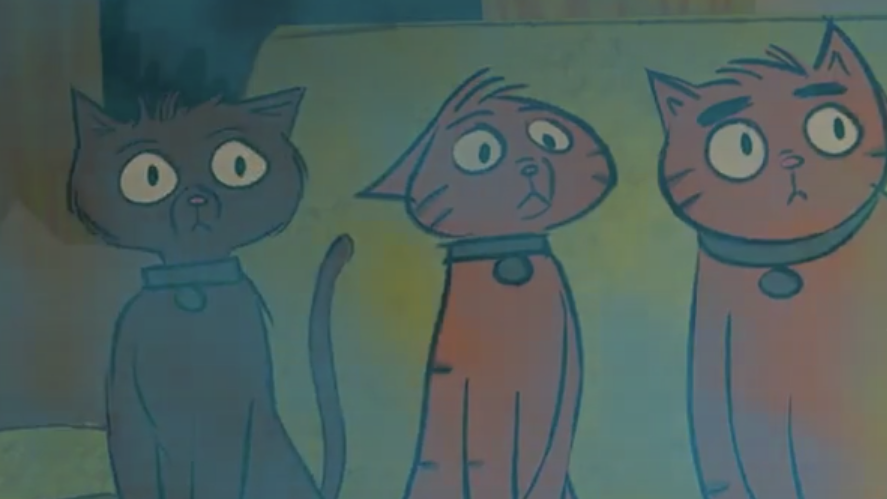 In brief
"Stoner Cats" is a short animated series.
It stars Mila Kunis, Jane Fonda, and Ashton Kutcher.
To watch it, you can buy NFTs.
There are all sorts of ways to watch TV these days. Cable, satellite, streaming service, YouTube. Hell, you can still get a fuzzy version of PBS if you twist a coat hanger into rabbit ears and stick it on your set.
To that list we can add one more: NFTs, the blockchain-based tokens that act as a deed of ownership for other assets.
Instead of paying for a subscription to Netflix, you can buy non-fungible tokens of toked-up felines, then use them to watch a short cartoon about said cats starring Mila Kunis, Ashton Kutcher, Jane Fonda, and Ethereum creator Vitalik Buterin.
The above sentence was not written while smoking cannabis. It's actually the, ahem, high concept behind the upcoming "Stoner Cats," a direct-to-NFT short animated series. 
Created by the animation team of Chris Cartagena, Sarah Cole, and Ash Brannon, and developed by Mila Kunis' Orchard Farm Productions, the series follows five house cats who inhale medical marijuana after their owner (voiced by Jane Fonda) accidentally drops it into the fireplace.
Hilarity ensues as the cats gain sentience and explore their expanding world.
In addition to Kunis and Kutcher, "Family Guy" creator Seth MacFarlane and comedian Chris Rock voice cats, while Vitalik Buterin plays the role of a taxidermied feline. (No dead cat bounce jokes about Ethereum's recent price movement, please.)
According to the creators, the NFTs are a way for fans to "engage directly with the content they want to watch and be a part of the content creation process." Moreover, according to the project, "The money raised goes directly to the people behind the show." 
Enough sales and they'll make more episodes—with plans for the cats to "dive deeper into the Darknet."
The show not only traffics in technological concepts, but also demands that viewers apply them. To actually unlock the first episode, you'll need to buy an NFT depicting Fefe, Hamilton, Dave, Baxter, Reginald, or Lord Catsington. That will set you back 0.35 ETH ($785), making it just slightly more expensive than a movie ticket and popcorn in New York City. You then connect your Ethereum wallet, such as MetaMask or Rainbow, to the Stoner Cats website to access the video.
Stoner Cats NFT holders also get access to other content and potentially a whole lot more. If the project sells out of its initial 13,420 tokens, production company Orchard Farms and NFT enthusiasts Big Head Club say they will create a decentralized autonomous organization (DAO) that permits token holders to participate in the development of new animated series.
And since they're NFTs, you can always resell them on a secondary marketplace such as OpenSea; Stoner Cats will take a 2.5% royalty.
The first short episode, "Stoned Awakening," is slated for release on July 29, while the tokens were scheduled for release on July 26.