Will Earnings Be The Catalyst To Drive Breakouts In These 3 Dow Jones Stocks? | Trading Places with Tom Bowley
As the stock market pushes further and further into record high territory, many companies have been slower to participate. For instance, the Dow Jones keeps trying to close above 35000 for the first time in history, yet many of its component stocks are still on the verge of breaking out. Whether they do will go a long way in determining the sustainability of this current advance. Here are 3 Dow Jones component stocks, whose breakouts could help this major index clear the 35000 level:
Unitedhealth Group (UNH)
UNH is a leader in the health care providers group ($DJUSHP), but it's been an average performer vs. the key benchmark indices like the Dow Jones and S&P 500. That could all change when it reports earnings tomorrow morning: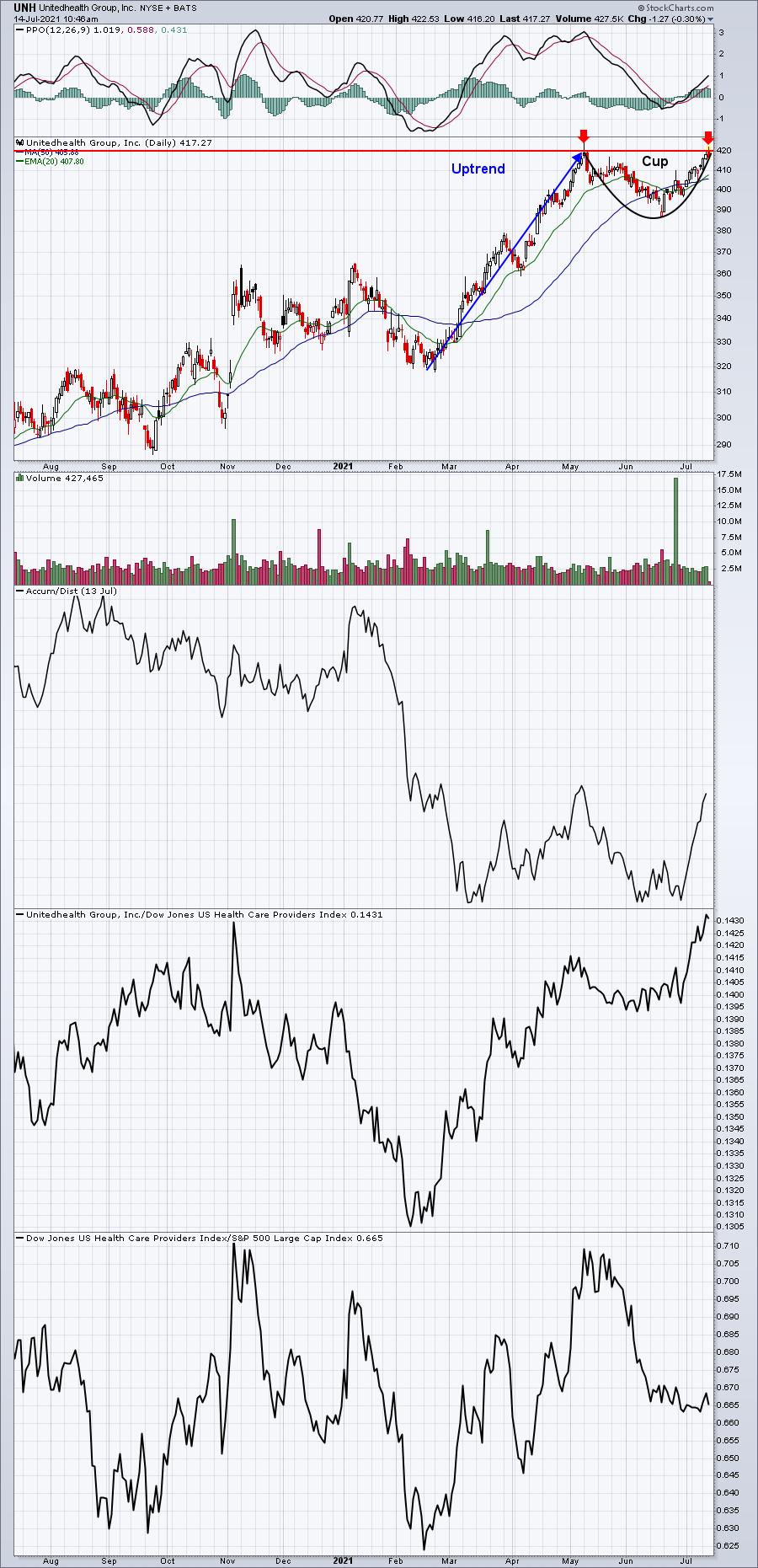 If UNH pulls back after a solid earnings report, just keep in mind that a handle could take it back to test its rising 20-day EMA, which would be an excellent entry point.
McDonalds Corp (MCD)
MCD still has some significant issues technically. Perhaps the biggest is that it's simply not performing well vs. its restaurant peers ($DJUSRU). That may change with its upcoming earnings two weeks from today, but right now it's a major concern: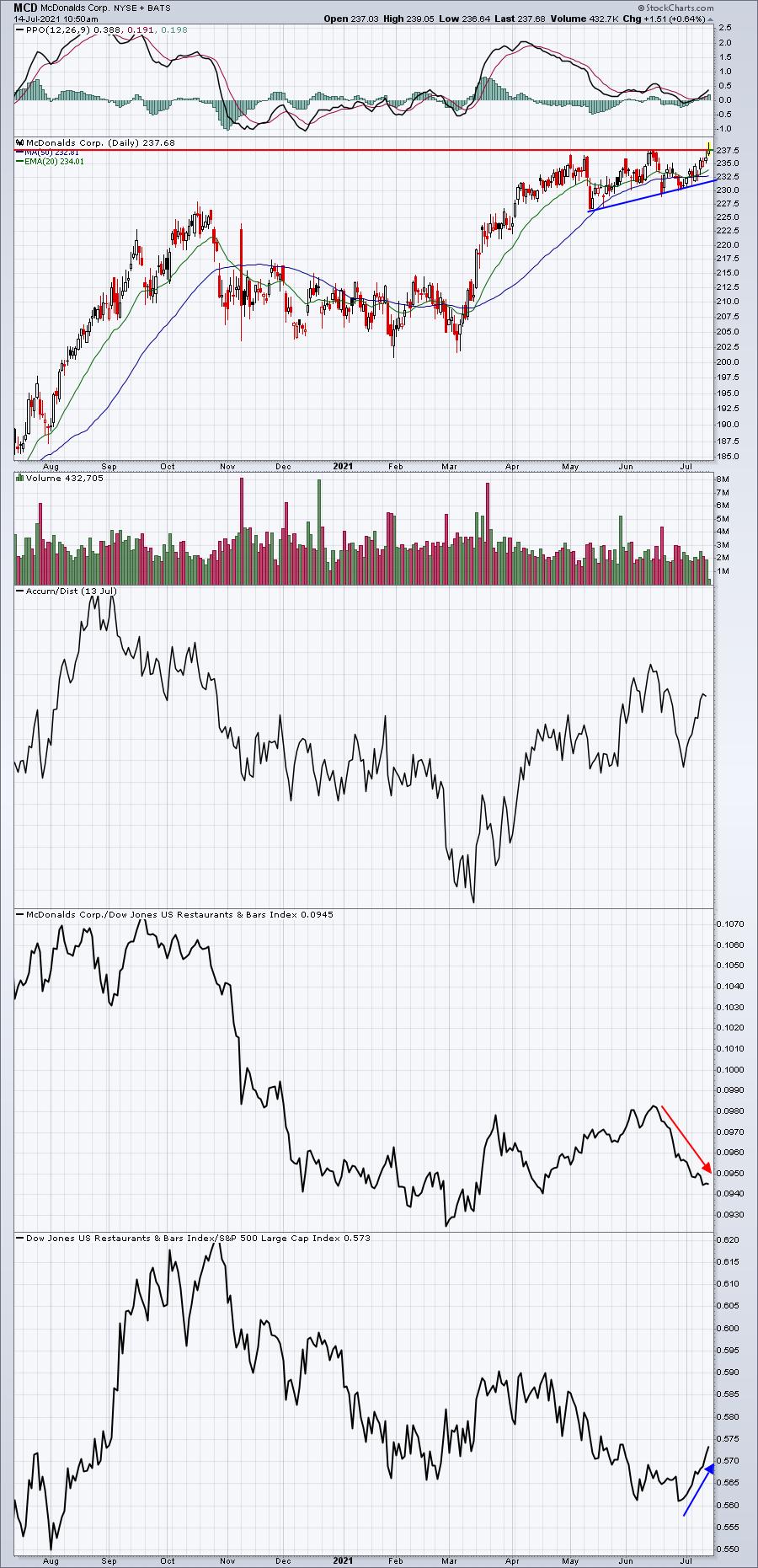 Those bottom two panels tell us a story. Restaurants are finally beginning to show a bit of relative strength, but MCD can't get out of its own way. Earnings can be a catalyst to change things, so keep an eye on MCD to see if it begins to display leadership.
Coca Cola Co. (KO)
Yesterday, Pepsi (PEP) soared with better-than-expected earnings, possibly paving the way for a big upcoming report from KO. That report is next Wednesday before the open. Until then, we're left with overhead price resistance still staring at KO:

KO has clearly been in an uptrend and its AD line is on the move higher as well – both excellent signs. But those lower two panels again are a problem. KO is part of the soft drinks industry ($DJUSSD), which has been consistently underperforming the S&P 500 for the past year. Furthermore, Wall Street has done their own version of a "taste test" and clearly prefers PEP over MCD at this moment, evidenced by that 5 month relative low vs. PEP.
Should any or all of these 3 stocks break to new highs, it could be just what the Dow Jones needs to finally clear that 35000 level that it's been trying to clear for 3 months: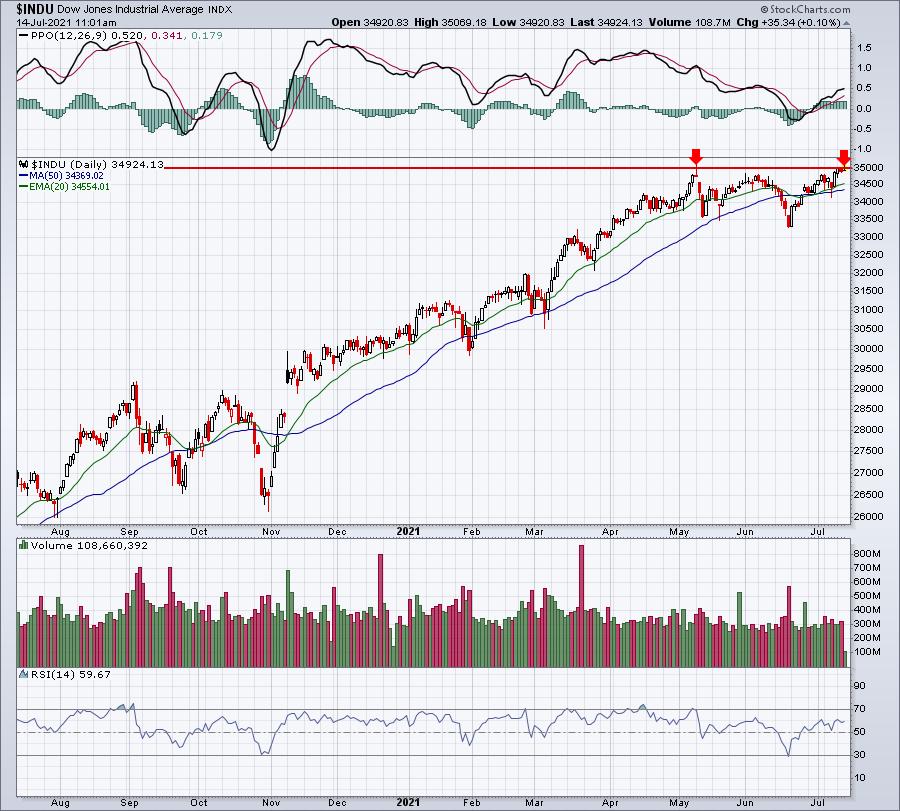 Earlier today, the Dow Jones reached 35069.18, just 22 points shy of the intraday record high of 35091.56 on May 10th. If you recall, we closed very bearishly that day and lost 1500 points over the next two trading sessions. While I wouldn't expect that type of short-term selling, we do know that the stock market tends to struggle once earnings season begins.
For more educational articles, please join our EarningsBeats.com community. I publish a free EB Digest newsletter 3x per week (Mondays, Wednesdays, and Fridays). To subscribe, CLICK HERE and enter your name and email address in the spaces provided. Again, the subscription is completely free (no credit card required) and you may unsubscribe at any time.
Happy trading!
Tom
About the author:
Tom Bowley
is the Chief Market Strategist of
EarningsBeats.com
, a company providing a research and educational platform for both investment professionals and individual investors. Tom writes a comprehensive Daily Market Report (DMR), providing guidance to EB.com members every day that the stock market is open. Tom has contributed technical expertise here at StockCharts.com since 2006 and has a fundamental background in public accounting as well, blending a unique skill set to approach the U.S. stock market.
Subscribe to
Trading Places with Tom Bowley

to be notified whenever a new post is added to this blog!